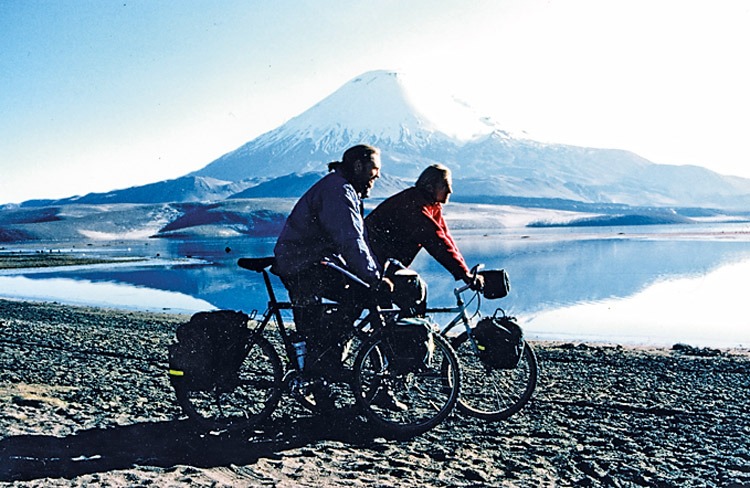 Two old friends on one momentous year-long trip. The ingredients that inspired a lifelong passion for pedallin'. For Saddle Skedaddle's co-founders, Andrew Straw (Straws) and Paul Snedker, their journey through Chile was so packed with unforgettable people, places and moments that they never stopped traveling by bike and exploring the world with others.
Inspiring beginnings: Where it all began
We didn't know what we'd find in Chile back in 1994. We'd traveled around Asia separately and this was a chance for us to do something together.
There was no way we were ready to go back to the routines we'd left behind. We just wanted to travel. To continue to prize open new parts of the world. The only difference this time was that we'd be traveling outside the boxes – the planes, trains and buses. This time, we'd be rolling slowly and steadily, and sometimes shakily, by bike.
We could never have imagined where and how far that trip would take us. But, for us, that was the whole point.
The trip came about after Andrew discovered, Le tour du chili a velo, a book about a French couple's cycling adventure through South America's unmistakably long, narrow country on its western edge. Andrew had met the authors in Japan, swapped traveling tales and the idea was planted.
With Paul in India, we spoke briefly on the phone and decided to cut short our stays in Asia. We would meet back in the UK and head out as soon as we sourced the right gear.
Fortune also played its part. By chance Paul met a Chilean priest stationed in County Durham. He insisted we visit his seminar in Santiago, Chile's capital. Andrew held up his side of him, securing the bikes and clothing we needed for the trip.
We arrived in January 1994 and visited the seminary. To our amazement they invited us to stay with them, where we settled and prepared in what were three weeks of supreme hospitality.
The priests provided us with a list of contacts. Friends and family, who would go on to provide shelter and food on our journey. These were still difficult times for Chile as former dictator, Pinochet, held a position of influence over the military. In these circumstances and to think back, the strength, resilience and warmth of our hosts and the people we met on our journey is humbling.
Lesser-visited Chile: An epic adventure unfolds
With our newfound contacts and confidence, we pedaled out of the city and into the wild. We would cycle through the seasons and navigate using local military maps (coincidentally the only maps we could find.) Something that would provide varying degrees of success in the months ahead.
We first headed north and into the Andes mountains. We climbed to breath-taking heights, experiencing extreme altitudes of 5000m (that's higher than Mont Blanc). Each night seemed brighter than the next – we were, after all, exploring one of the best places on earth for stargazing.
Then there was the Atacama desert, one of the driest places on earth. Our survival depended on excellent planning. This was Paul's department and it kept us alive when things didn't work out as we expected.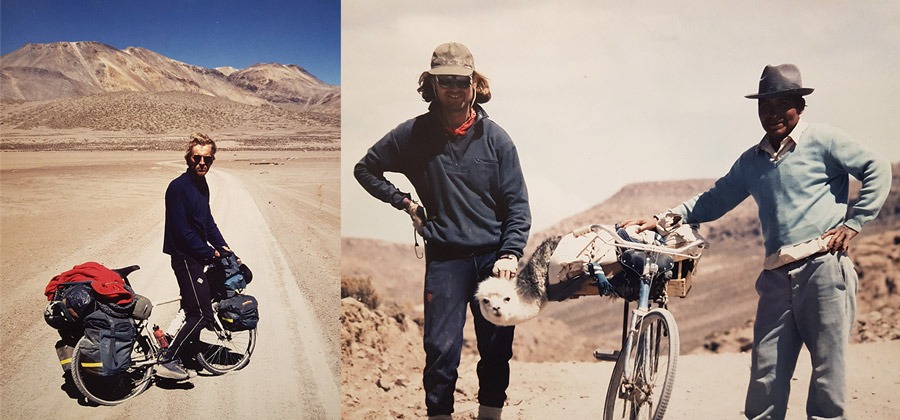 One such time involved a town called Altamira where we were to rest and restock. Except when we arrived, instead of warm welcomes and fresh supplies, all we found was a graveyard. To make matters worse we had desert on all sides as far as the eye could see. We'd been riding for days and we were alone.
After the panic subsided, we set an alternate destination, heading west to the Pan American highway, rationing our water. It was three days ride until we saw our first soul. Remarkably we hit tarmac, we found a cafe and petrol station in the middle of nowhere and made the owners day as we ate our way through his menu. Hungry and exhausted, the experiences we're describing might sound extreme but in truth they didn't make us and we forged on enjoying the adventure.
Chile also has more than 6,000km of coastline. When we first reached its shores out of the arid desert and High Andes, we kept the sea breeze close to hand, cycling south to the lush, green Lake District and on towards the jagged peaks of Patagonia.
Traveling by bike: A transformative experience
With every mind-blowing vista there was a new friend who greeted us with open arms, hot food and a tale to tell. The contacts we'd been given in Santiago became a huge source of joy and hope throughout our trip. One priest in particular, Pepe, along with his family of his, offered us a room and treated us as if we were long-lost relatives. We've never forgotten these acts of kindness.
It didn't take us long to understand the role of our bikes in all of our experiences. The strong connections we made with people. The vast details we felt in the remote landscapes. The silence and serenity that were so often the reward for our efforts.
The bikes opened everything up, ourselves included.
Perhaps we were never so open on our journey, certainly to the elements, than when we found ourselves trapped in a snowstorm in the High Andes. Pinned down on a mountain plateau, we had no choice but to stay in our tent. Hours turned into days and still the wind and snow billowed and buffeted us. There was nothing to do but talk.
We realized how special it was for us to ride through Chile and not simply pass it by. We wanted to share this experience and give others the chance to really meet a place and its people as we had. We agreed to leave out the desert rationing and snow storm camping.
This was the beginning, the chat that led to our cycling holiday company.
Going the extra mile: From then to now
When we made it down from our mountain and ran out of world to explore we had one year of cycling adventures under our wheels. We returned to the UK and it took us the best part of a year to get our new plan together, officially registering Saddle Skedaddle as a business in December 1995.
Interestingly, the name we're so proud of was not conjured up on a remote trail in Chile, but the result of a late-night brainstorming with friends on the Northumberland coast. The story goes… Andrew was shouting out bike parts and "saddle" was thrown up, to be immediately followed by "skedaddle". The source is still unknown due to a lack of memory or was it a lot of beers? We'll never know and who cares.
A promotional flyer for a cycling holiday to Chile was created in the new name's wake and distributed at their first official exhibition, the Destination Travel Show in Birmingham. Five people liked what they read and heard that day and we returned to Chile on our first official Saddle Skedaddle tour in August 1996.
Fast forward 25 years and we're heading off on new adventures with around 5,000 cyclists every year. Since those early days in Chile, we've stuck to what we believe in. It's how we've made so many connections and built up a peloton of good people and kind souls. What inspires us today is what inspired us in 1994: that travel should move you and that there is no better way to meet a place and its people, its culture and its natural wonders, than by bike.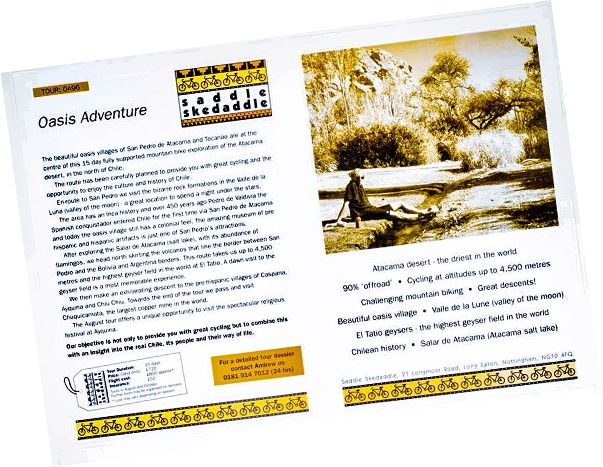 First Saddle Skedaddle brochure – Oasis Adventure in Chile, 1996
Find out more about Skedaddle here – from our humble beginnings to where we are now!
Feeling inspired by our epic origin story in Chile? Well, we've good news – for a limited time this summer, we're offering you the chance to provisionally save your space on our group holidays in 2021, and get trip status updates without commitment, or cost. Find out more HERE.