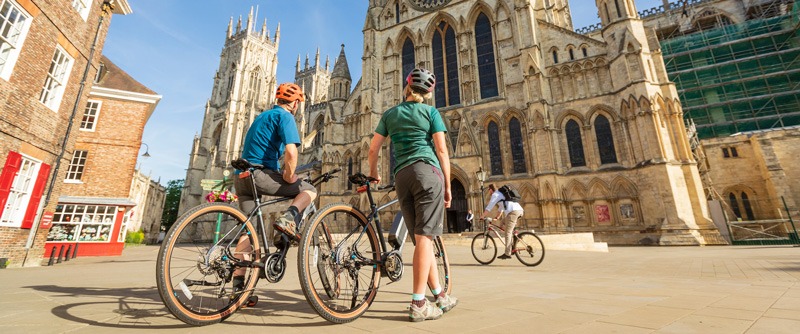 11% of Brits are more likely to buy or use an e-bike now than there were ten months ago, and across Europe the number is even higher with 1 in 4 saying they intend to use an e-bike, reveals Shimano's State of the Nation report. There is absolutely no denying or stopping the growth in e-bike popularity and even hard-core cyclists are recognizing that a little bit of extra assistance can help them get more out of their riding time. Here we are going to give you three good reasons why you should give e-biking a go – and bust a few of the most persistent e-bike myths…
Discover our range of holidays suitable for e-bikes here!
---
What is an e-bike?
An e-bike (short for electric bicycle) is a bicycle that is equipped with a battery-powered motor that gives you a boost when you need it. Some might imagine e-bikes being like mopeds, but this simply isn't true. You still have to spin the pedals to power the e-bike, and they are commonly known as 'pedal assist' bikes.
The motor assistance can be controlled by the rider so you can have more or less assistance as you need, meaning you can still get fit by putting some of your own efforts in! All electric bikes in the UK are subject to an assisted speed limit of 15.5mph. After this speed, the bike can be ridden quicker, but you will no longer receive assistance from the motor. But, the motor is there when you really need it, accelerating away from a standstill or getting up that cheeky climb!
---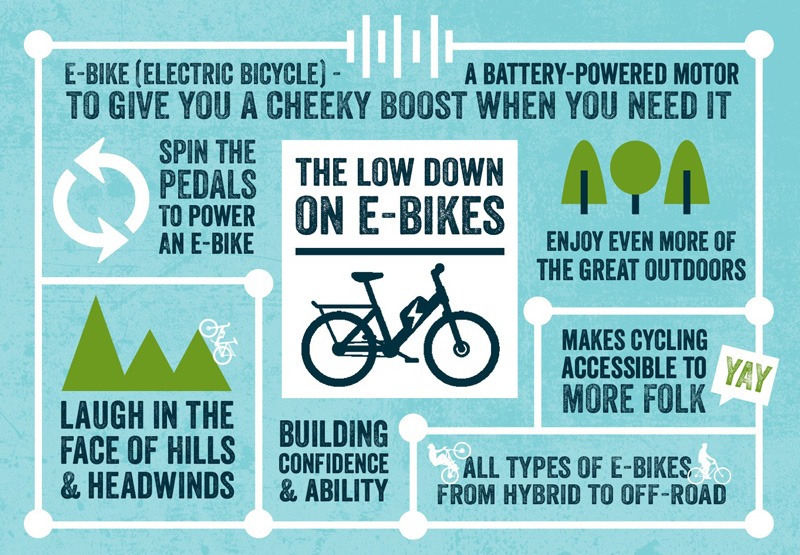 Why ride an e-bike?
It takes away your excuses
Too tired to ride? Don't have the time? Not fit enough? We've heard or used them all ourselves, but an e-bike can be the answer to all of those issues. However much spare time you have got, your e-bike helps you make the most of it. With the input of pedal-assist, you can go further in the same amount of time, helping you to explore new places and enjoy your ride, without feeling exhausted.
And if hills are too hard? Well, an e-bike puts a tailwind behind you and flattens out the hills. As the gradient kicks up, your e-bike starts to take the strain. You will still be pushing on the pedals – and therefore getting fitter – but it makes all hills, even mountains, attainable.
leveling up
We know what it is like to go out with faster friends and struggle. Maybe you are injured, new to cycling or simply getting a bit older. An e-bike allows you to enjoy riding in a group and not worry about being left behind or exhausting yourself to keep up. With an e-bike you can cover more distance, for less effort, than on a conventional bike. This means rides that might feel inaccessible to you, are comfortably within your reach. It also means that you won't end your day on the bike feeling so tired all you want to do is head to bed! An e-bike holiday means plenty of energy for enjoying your destination after the day's riding is finished.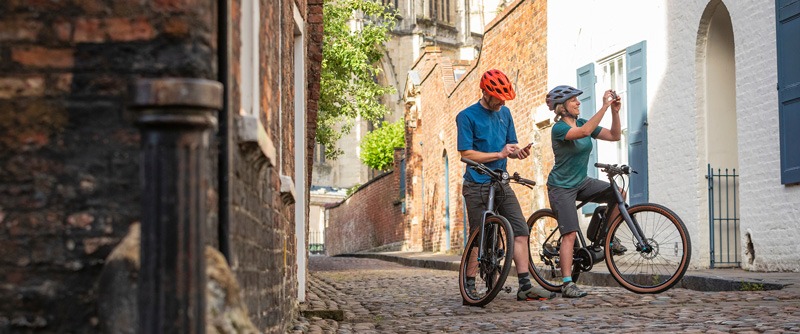 It makes cycling fun again
The feeling when you push down on the pedals and your bike leaps forward, the days when you feel strong and full of energy is wonderful. There really is nothing better than the wind in your hair and the exhilaration of exploring somewhere new by bike. With an e-bike, you can feel like this every time you ride. Whether it is keeping up with your faster mates, riding to the top of the hill without pushing, fitting in more than one run of the downhill or conquering a mountain an e-bike makes you feel confident that you can ride further and faster. You can stay out all day without feeling exhausted or strained, allowing you to just have fun and enjoy the ride – cycling, the way it should be.
---
E-bike myths – busted!
Myth 1: You won't get fit
Cycling fitness is hard to earn and easy to lose but with an e-bike you can challenge yourself on bigger climbs and longer rides than you could on your own fitness alone. People who own e-bikes often say they ride further, more often and put more effort in when they are cycling because the bike helps to take some of the strain and encourages them to have more fun!
Gears, brakes and handling are very similar to any other bike, meaning you still pedal like everyone else and need to be happy spending time in the saddle. However, at the flick of a switch, your superpowers kick in! Most electric bikes have varying modes of assistance, so you can pick a level that suits you, depending on how you're feeling. Because an e-bike allows you to exercise for long periods of time at a low heart rate and effort level, you can ride further and more frequently without feeling tired or exhausted – which all adds up to more fitness gains.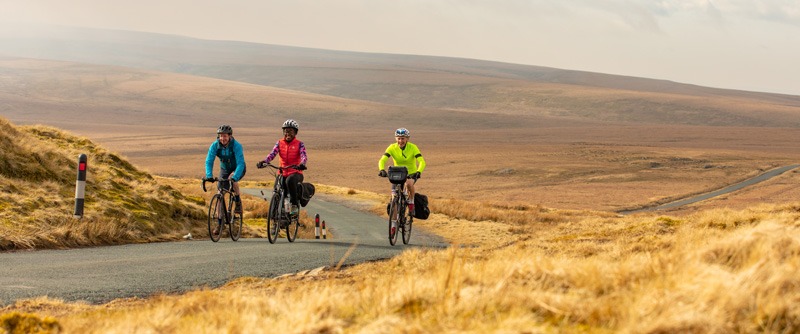 Myth 2: E-biking is cheating
If you head out on an electric bike for a ride, sooner or later you're bound to get some attention from fellow cyclists curious about the trusty steed your effortlessly pedallin'. You may even hear some self-proclaimed 'proper cyclists' going so far as to call it cheating. This is a frustrating question for e-bike enthusiasts and a hot topic for discussion among cyclists. So, is it really cheating?
Remember that cycling is not always a competition or a race. At Skedaddle, we're a big believer in encouraging as many people to join in the fun as possible – one passionate and caring community, united by their moments in the saddle! We love cycling for the simple fact it enables everyone to get out and enjoy the great outdoors. So, the conversation about the unfair advantage or cheating is not really relevant if it's not a competition to start with…
Myth 3: E-bikes and conventional bikes can't mix
On our cycling holidays, riders opting for this type of bike have often been a great source of fascination amongst the group, including the object of some jesting too! This culture clash is not uncommon, but is usually swiftly followed by a request from the jesters to try it out for themselves. Skedaddler Helen Wallis who joined us on the Tuscany to Rome recalls her her electric bike experience her…
Interestingly, after a few days of gentle teasing (and a cracking new nickname 'Duracell Bunny'), everyone on the trip was keen to have a go on my e-bike. There were plenty of big grins and even the odd cry of amazement at the level of assistance it provided on all types of trail and surface and especially on the hills. – HelenTuscany to Rome – Italy
---

Electric bikes at Skedaddle
We welcome electric bikes on a selection of our tours where the terrain is suitable and these bikes are available. They are currently available to rent on a selection of European and UK leisure holidays, as well as on a selection of our long-haul Cycling Adventures, where you are also welcome to bring your own (please note, most airlines won't carry and -bike batteries, so it's worth checking your travel arrangements in advance). E-bikes are not currently available to rent on any of our Road Cycling holidays and we are not currently accepting guests bringing their own e-bikes on these tours except under very exceptional circumstances.
Our love of e-biking has helped us design a range of eMTB holidays for bikers wanting to get even more fun out of their ride. Get further off the beaten track, find the absolute best trails and spend more time on your bike and less in an uplift vehicle. We're convinced electric mountain bikes are going to impress even the most seasoned of bikers and are the best option for eMTB'ers. We are not currently accepting e-bikes on our MTB standard It is essential that you discuss the suitability with us before bringing your own e-bike on any holiday. As well as the suitability of your bike we will also consider the group dynamic if you are joining a guided or supported holiday.
Please don't hesitate to get in touch for a chat!
The lowdown on eMTB: A Q&A with our expert
---
Ready to go the extra mile? In short, electric bikes offer you a great way to make cycling easier and more enjoyable! Check out our full range of cycling tours with electric bikes available here and find out for yourself.