The Ultimate Trail Bike. That's a bold statement. Particularly if you're lumping both e-bikes and standard mountain bikes into the same category. Hyperbolic claims aside, Specialized is committed to making the best eMTB they can, which doesn't always come easy. They were nearly ready to launch this bike in 2022, just with a completely different engine. There was even a media launch event for the bike.
But it wasn't "the ultimate trail bike" yet, so they went back to the drawing board. Literally.
The key to the success of the Turbo Levo SL Gen 2 lies in the engine, which is completely new from the ground up. Specialized claims that not a single bolt or part was reused from the 1.1 SL engine to create the 1.2 SL engine. Yet the all-new 1.2 is still the exact size and weight of the previous engine – just with a lot more power and torque.
Combined with the already excellent frame, would this new motor be just what the next-generation Levo SL needed? We headed to California to find out.
Setting Up the Turbo Levo SL Gen 2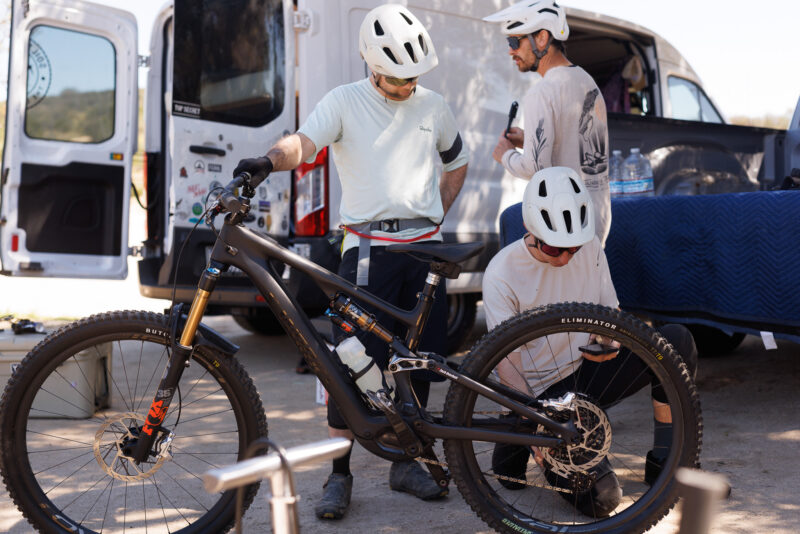 Taking place the week before the Sea Otter Classic, a lot of California was still drying out (or melting out) from epic storms. Fortunately, the trails were in good shape in Temecula, so the Specialized crew packed up and headed to SoCal.
By the time we arrived, the bikes were set up and waiting for us near Greer Ranch trails in Murrieta, CA. After a quick suspension setting, there wasn't much to do other than dial in the cockpit and check tire pressures. At 5'8″, I'm probably between an S2 and S3, but opted for the S3 and felt instantly at home.
After riding the first day, I did end up changing the shift button orientation on the AXS Transmission shifter though. I found that I'd prefer the shift order reversed, which was very easy to change with the AXS app. Once the bike is connected to the app, then select the shifter and assign the button the preferred shifting action. Once you figure out how it's done, this can be done very quickly.
While the Specialized Mission Control app and MasterMind Total Control Unit offer immense customization options, you can basically just jump on the bike and go. A simple press of the power button wakes the system, and from there, everything can be easily controlled through the remote on the left side of the bar. The +/- buttons toggle through assist modes going from off, to Eco, Trail, and Turbo. A long press of the button also allows you to enter the MicroTune setting where assist can be adjusted in 10% increments.
Turbo All the Time?
In spite of the display screen being located on the top tube instead of on the bars, it's still very easy to see the numbers and settings as you're riding. It's also not distracting when you don't need to see if you're still in Turbo mode. All of this is to say that the system is very intuitive and easy to operate. You can really dial in your settings with the Mission Control app, but you can also just jump on the bike and ride without opening your smartphone as we did for three days.
As we were rolling out to the first trails, I got acquainted with the level of power and assist from the new engine. You can tell it's not a full-power ebike, but that could be a good thing. Specialized's motto is "you, only faster," and the new Levo SL offers exactly that. Sure, you can tell you're riding an ebike, but it feels like you're just having your best day on the bike.
Maybe the best thing about the new bike is how quiet the engine is. Under most circumstances, you'll struggle to hear anything out of the ordinary. Only on steep climbs with full Turbo power will you hear anything from the engine and even then, it's a quiet whir – not the obnoxious whine many full-power ebikes emit. For the people who ask, "why not just get a motorcycle?" for me, the quietness is one of the main reasons. With the Levo SL, most of what you'll hear is your tires rolling down the trail.
While we were riding at Greer, selecting Turbo mode was enough to make the steep climbs with tight switchbacks a riot. It was still a workout, but it was way more fun than it would have been climbing those same trails without assist. It was also instantly clear we weren't on full-power e-bikes when a group of riders on full-power ebikes was able to catch up to us fairly quickly as we were motoring uphill.
At the top, it was time to bomb back down which is where the frame design really came into its element. Any ebike can climb fairly well with enough power, but how a bike handles while descending is the true test. Often while descending, you're not utilizing the motor's power so you are effectively piloting a 40+lb bike downhill. If the suspension or geometry isn't dialed, you'll quickly find out.
Impressive Battery Life
The Levo SL Gen 2 on the other hand was begging to be pushed faster. It is a bike that is just as happy rocketing downhill as it is casually climbing back up. Throughout our time at Greer Ranch and the next day at Vailocity Bike Park, we sampled everything from XC, to flow trail, to gnarly rock gardens and fast, chunky downhills. Don't be fooled by the 'SL' in the name, this bike is every bit as capable as you'd need it to be.
We were riding the bikes as they come out of the box – 29″ front, 27.5″ rear wheel, middle headset position, and the low BB position. I'd like to play around with the different settings just to see how it affects the ride, but in Temecula, it wasn't needed. The geometry felt spot on, and despite many technical rocky sections, pedal strikes were kept to a minimum.
Given that I was riding with people better and faster than me (including Curtis Keene), I found myself mostly riding uphill in Turbo mode. Even on some descents I would keep it in Turbo, but it would often drop down to Trail mode. I rarely used Eco mode, and yet the battery life was still very impressive. I never got close to draining the battery in spite of my heavy use of Turbo and a lot of steep climbs. On the second day, Specialized recharged the batteries while we had lunch to be on the safe side, but I don't it would have been necessary for me. I covered 21 miles that day with just over 3k feet of climbing, and at lunch it was still above 50% of battery life. For really big days, the range extender would take you pretty far especially if you are efficient with your assist.
SRAM Transmission Approved
This was not my first time riding SRAM Eagle Transmission, but it was my first time riding it on an ebike. I have to say that it makes even more sense on an ebike than it does on a regular bike. You can be under full Turbo power and still know that if you hit the AXS shift button, the derailleur will just slam it into gear without fuss. There was one bike in the group that was having issues with the derailleur staying put, but that seemed to be a torque issue with the mounting bolt and was eventually fixed.
I'm also still not completely satisfied with the positioning of the shifter pod after trying both the bar clamp and the SRAM Matchmaker clamps. It's not a huge deal, but to me, it feels like the pod could use another axis of adjustment to really dial it in – like if it had a ball joint where the pod meets the bracket.
Turbo Levo SL S-Works
We were riding the S-Works build level, which includes SRAM XX Eagle Transmission, SRAM Code Stealth Ultimate brakes, Fox Factory suspension, Royal Traverse carbon wheels, and Specialized Butcher/Eliminator 29 x 2.3/27.5 x 2.3″ tires. The only change made was to add a Grid Gravity casing tire at the rear for the chunky terrain. There were no flats.
An S4 S-Works build is claimed to run about 39.6 lbs which is heavy for a trail bike, but pretty light for an ebike. It was mentioned during the trip that this is essentially an entire Aethos lighter than a full power Turbo Levo. It's possible to make it lighter, but there's little need to. Even at 40 lbs, the bike is impressively nimble. At times, it feels like the added weight even helps you to maintain traction on loose corners, and never feels like a handful.
I love that you can still fit a full-size water bottle in the S3 frame, though if you choose to run the battery extender you'll have to carry water on your back (which you'd probably need to do anyway since you' re in for a big ride). Note that the battery extender cable is different than on previous models. And for quick trailside adjustments, the SWAT CC steerer tube integrated tool with a chain tool and link is a great touch.
It's a bit hard to believe that the first Specialized Levo product wasn't introduced until 2016. Starting with the Turbo Levo FSR in Moab, I've ridden most of the Levo generations since. Every year the bikes have gotten better, but the Levo SL Gen 2 takes things to another level entirely. This single bike seems to combine the best attributes of the various Levo platforms into one impressively capable ebike – that doesn't really ride like an ebike.
In terms of having my own ebike to regularly ride on my home trails, I've been on the fence for years. But this bike changes that. I want one. Not to replace my non-ebikes, but to supplement them. The Levo SL Gen 2 feels like a bike you could ride just about anywhere, and has an absolute blast doing it. Maybe that does make it "the ultimate trail bike?"
For more details on the Specialized Levo Gen 2, check out our tech piece here.
specialized.com