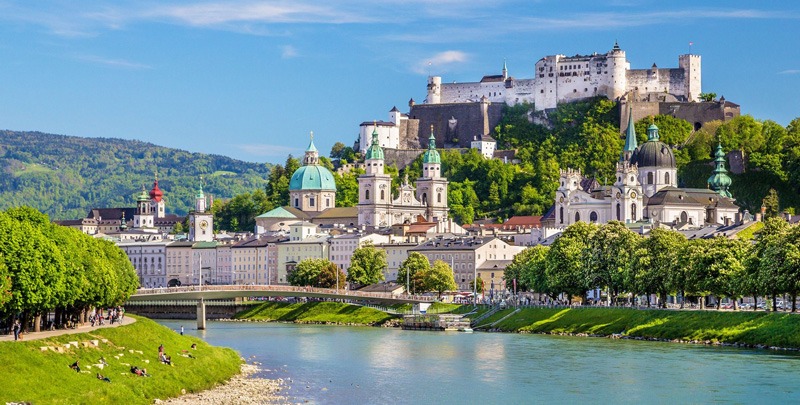 The spellbinding city of Salzburg needs little introduction to many, thanks to its rich musical heritage and stunning location in the foothills of the Alps. This cultural hub is the start and end-point for a truly special Skedaddle cycling holiday in Austria – the perfect ride for those seeking gentle pedallin' and plenty of fun off the bikes.
Set either side of the Salzach river, with a backdrop of scenic Alpine landscapes, the historical town of Salzburg has rightly earned a reputation as one of the world's most beautiful cities.
Whilst this picture-postcard city is known for its impressive Christmas market, it's equally as charming in the summer, with tones to keep you entertained. Aside from its knockout geographical base, it's a place with some rather big claims to fame! This includes the birthplace of the classical composer Wolfgang Amadeus Mozart, not to mention the world's most musical family, the Von Trapps.
We love Salzburg so much we made it the start and finish of our gentle journey in Austria, giving you plenty of time to explore this legendary city. In fact, we encourage you to extend your stay either at the beginning or the end of your cycling holiday, to really make the most of all it has to offer.
Not sure what to expect? Here are some of our favorite things to do in Salzburg and just a few reasons we can't wait for you to join us here on a cycling holiday sometime.
Check out our cycling holidays in Austria
---
step back in time
At the heart of Salzburg is the timeless Altstadt (Old Town), a UNESCO world heritage site that stretches along the glistening river and is home to tones of charming buildings dating back centuries. Even better? Much of Salzburg's old town is pedestrianized so you can explore with ease, free of car fumes and traffic chaos.
Strolling through the UNESCO Heritage cobbled streets is an absolute must for anyone visiting the city. The architecture ranges from the Middle Ages to the Romanesque, Baroque and Renaissance periods, so there's lots to enjoy here and the buildings offer a fascinating insight into the heritage of Austria.
The busiest street of them all is the Getreidegasse where you'll find all manner of shops, from bakeries to cafes, confectionaries and of course plenty of travel souvenirs! The charming wrought-iron signs which decorate the street from above all add to the old-world feel.
For a lovely way to access Alstadt, we recommend taking the Makartsteg pedestrian bridge that crosses the Salzach River and bridges the new part of the city with the old. Not only does this bridge have great views, but it's also most famous for the hundreds of love locks that adorn it – perfect for the old romantics amongst us.
---
A castle with a view
Without a doubt, if there is only one thing you're going to do when in Salzburg, it should be a visit to the impressive hilltop castle – the Hohensalzburg Fortress. This historical gem dominates the skyline of the city, perched atop the Festungsberg (a mini) mountain overlooking Old Town.
Considered one of Europe's best-preserved medieval castles, it's home to some fascinating museums which make it a great place for both history buffs and those looking to simply while away a few hours. Hohensalzburg's lofty position also makes it the best place to visit for 360-degree views of the city! If you ask us, there's no better place to capture your holiday snapshots.
Access to the fortress can either be made by foot (but expect a bit of a hike!) or for a more relaxed ascent, by funicular (cable railway). The latter is a short 1-minute ride and can be reached via the Old Town.
---
A music center for centuries
Salzburg is often referred to as the 'city of Mozart', a bragging right second to none. This musical capital is buzzing with the spirit of its melodic exports and the streets really are alive with the sound of music…
For fans of Mozart, there is no better place to learn more about the legendary composer. In Alstadt you can visit the house he was born in which is now a museum, as well as visit his statue of him in his namesake square Mozartplatz (also found in the Old Town). In addition to guided tours of his famous haunts, a classical concert allows you to hear Mozart's music come to life in a very special way. For an all-around sensory experience, keep your eyes peeled for Mozartkugeln, famous (and very tasty) chocolate balls named after the composer.
If producing one of the world's greatest composers wasn't enough, the city is also the famous home of The Sound of Music film. There are several tours you can take to see the filming locations come to life, where you can expect singing and much merriment!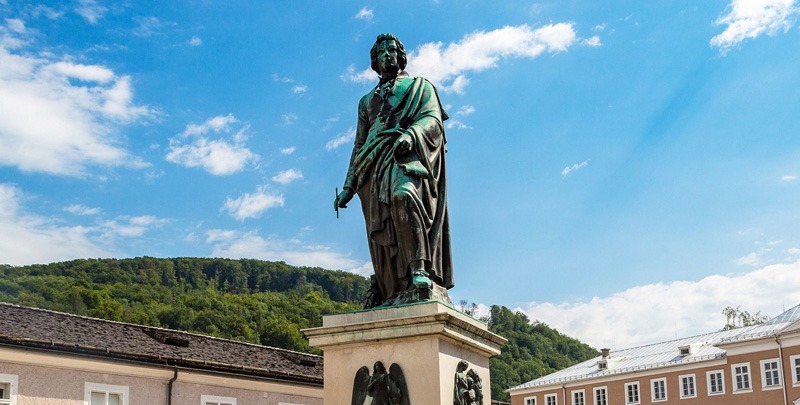 ---
The Mönchsberg mountain retreat
The Mönchsberg mountain offers the perfect respite from the hustle and bustle of the city centre. This green space is home to meadows and forest paths which make it a great place to explore on a sunny afternoon.
In addition to the several footpaths and lovely scenic vantage points of the city, the Mönchsberg is home to some delightful cultural treats. Lovers of modern art will want to make a pit-stop at the Museum der Moderne which boasts a large collection of modern classical artworks.
If you're more of a foodie, the museum's restaurant M32 will not disappoint! Complete with a breathtaking outdoor terrace and floor to ceiling glass windows providing panoramic views of the city – it's a really special place to grab a bite to eat.
---
A taste of Salzburg
Getting to know a place through your taste buds is something we're big fans of here at Skedaddle. After all, a cycling holiday is a great excuse to indulge. Here are some yummy local delicacies you don't want to miss…
The Bosna is Salzburg's tastiest street snack and unique to the city. Essentially a hot dog with a spicy twist. It can be found at many places across the city, but we recommend heading to the hole-in-the-wall Balkan Grill in the Old Town (just be prepared for a bit of a queue as it's a popular lunch spot.)
For a non-meat side dish, you can't go wrong with Spinatknödel. Whilst not specifically from Salzburg, these spinach dumplings hail from the nearby Austrian Tyrol which is pretty damn close! They usually come served with a generous helping of Parmesan cheese which adds wonderfully to the flavour.
If you've got a sweet tooth like us, be sure to order a Salzburger Nockerl. This warm, light, fluffy dessert is soufflé-like in texture and its unique shape is said to be reminiscent of the city's surrounding mountains.
Austrian wines are not as famous as those that hail from their neighbors in Italy or Germany, but they do exist! For a dry white wine try the Grüner Veltliner or for a red, the Blaufränkisch is your best bet.
Looking for some great souvenirs to take home? We recommend a visit to the Feinkost Kölbl deli. This place only sells the best local produce and is a foodie's heaven!
---
TOP TIP FROM LOCALS
If you're planning to extend your stay and are eager to tick off as many of the local attractions as you can, we recommend purchasing the Salzburg card. This typically costs around 24 euros for 24 hours and can be extended for several days. It provides you free admissions to some of the most famous attractions, as well as free transport around the city, including the funicular up to the Fortress. The card can now also be downloaded straight to your phone for ease of storage.
---

Join us in Austria for a cycling holiday
We hope you feel inspired to join us here on a cycling holiday in Austria soon! Our gentle tours of the region are perfect for those new to the world of cycling, or just looking to take things nice and easy.
Alongside the chance to discover inspiring Salzburg, we take you out into the gorgeous surrounding countryside to explore more of Austria, including its many lovely lakes. With family bike hire available, as well as e-bikes, Austris is a fantastic option for a wide range of cyclists. Head to our website today to discover more.
Learn more about our holidays in Austria here!