The reebok NanoX3 cross trainers were released worldwide on Feb. 10, 2023. The Lift and Run (LAR) Chassis System implemented in the design of the shoes aims to allow athletes to switch from cardio exercises like running, rowing, or jumping rope to weightlifting movements like clean & jerks and snatches with enough support in both.
Rather than switching from running shoes to lifting shoes mid-workout, athletes could move through their training from start to finish equipped for whatever the programming called for. On March 17, 2023, at 10 am EST, the latest edition of the Nano X3 will be available to add to consumers' carts — the Nano X3 Rec Center Pack.According toReebok:
Nano X3 Rec Center Pack features two unique colorways with an asymmetrical mesh color design reminiscent of the reversible 'pinnie' used for pick-up games and team activities.
Check out what that asymmetrical design looks like below: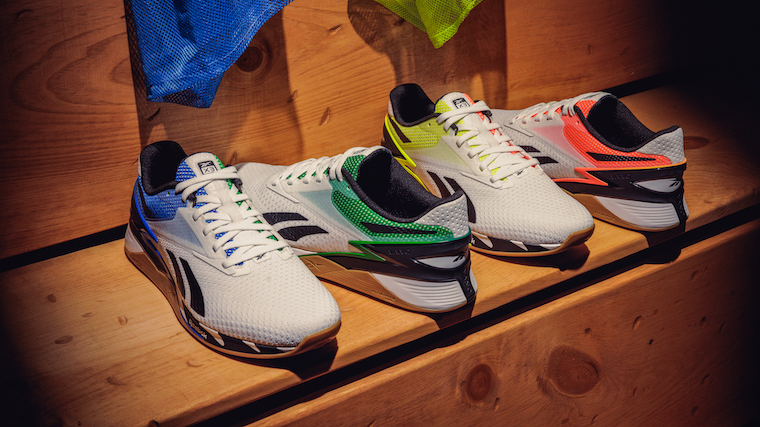 [Related: How to Do the Smith Machine Bent-Over Row to Build a Bigger, Stronger Back]
Key Features of Reebok Nano X3 Training Shoes
The Nano X3 Rec Center Pack maintains the key designs of the Nano X3.
Updated Heel Shape and Clip— newly designed heel clip for increased stability.
LAR Chassis System— new midsole technology built for stability when lifting and added cushioning for running and jumping.
ROPEPRO+ Outsole and New Tread Pattern— wear protection on the outsole grip.
FlexWeave Knit Upper— lightweight and breathable.
Recycled Upper— minimum of 30 percent recycled upper materials.
The Nano X3 Rec Center Pack will be available for $150 via Reebok.com/NanoX3 on Friday, March 17, 2023, starting at 10 am EST.
2023 CrossFit Open
Those needing to update their training shoes may have competed in the 2023 CrossFit Open, which concluded on March 13, 2023. The second Fittest Woman on Earth® Mallory O'Brien went back-to-back, winning the Open for the second consecutive year in the worldwide Rx'd Women's division. Jeffrey Adler won the worldwide Rx'd Men's division.
More Training Content
Keep up to date on all the latest training content onBarBend:
How to Do the ATG (Ass-to-Grass) Split Squat for Unprecedented Leg Gains
The CrossFit Angie Workout Explained and Scaled for Every Skill Level
How to Do the Dumbbell Split Squat for Bigger Legs and Better Balance
Featured image courtesy of Reebok.
The post Reebok's Nano X3 Rec Center Pack Available on March 17, 2023 appeared first on BarBend.