The Far East is home to some of the most mind blowing adventures in our range, where journeys are inspired by ancient traditions and extraordinary landscapes, quite unlike any found elsewhere in the world! Our cycling tour in China, Guilin and Guangxihas proven incredibly popular over the years and so we're thrilled to bring you a new cycling adventure in the region, taking in the mythical land of Mongolia.
Keen to get the lowdown on this new itinerary, we caught up with Scott who heads up our local team, to find out more. Born and raised in Australia, you'll be pleased to hear Scott is much more into his cycling than his cricket (phew!) and is now a proud resident of Yangshuo in China. He lives with his lovely wife Snow who is from Mongolia (so the pair know a thing or two about the country!) with their child and labrador. We have worked with Scott since 2012 and so many Skedaddlers have met him guiding our cycle tours in China. Here's what he told us…
Find out more about Scott here!
'If you are considering a trip to Mongolia and have done it, or are also interested in our China tour, I can offer up a comparison that might help you make your decision. Alongside the fact they are two completely different countries and cultures, the main differences are the accommodation arrangements and the cycling conditions you'll encounter.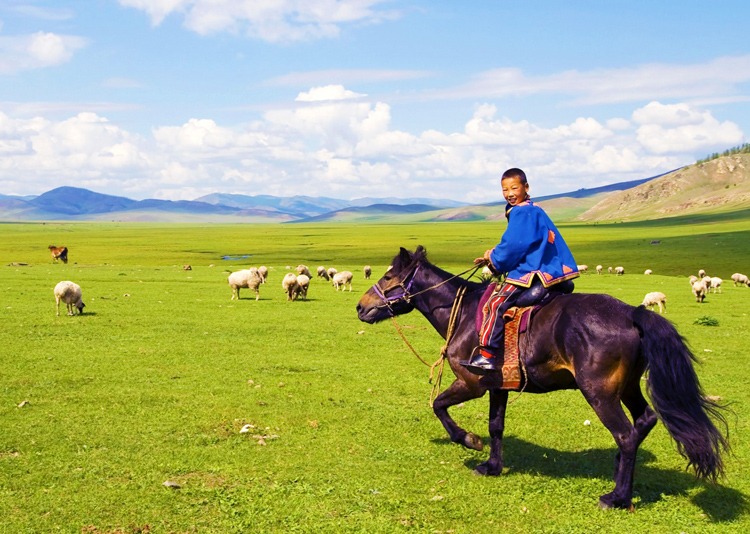 Quirky accommodation
First and foremost, Mongolia is a camping tour. We stay in hotels in Ulaan Baatar but once we leave for the countryside, it's camping all the way. We supply two-man tents for each solo traveler and three-man tents for each couple. You'll also be provided a toilet tent (portable sit-down) and washing tent also, so no worries about completely going back to basics.
In addition to this, there is also a meal tent with tables, chairs and a cook who prepares several courses for every meal! Dishes range from pasta to stews, various meat dishes (beef, chicken, pork), soups and salads. Veggies and vegans are catered for too. Whilst we feature many of the local dishes to give you a feel for authentic Mongolian cuisine, predominantly the food is western.
This is therefore 'comfortable camping', but camping nonetheless, and we encourage you to bring your favorite sleeping mats and bags to make sure you get a comfortable sleep. Not only does this accommodation give you a real feel for authentic nomad living, it also allows us to choose great locations in secluded areas, close to rivers and far away from any other tourists (which there are few anyway!)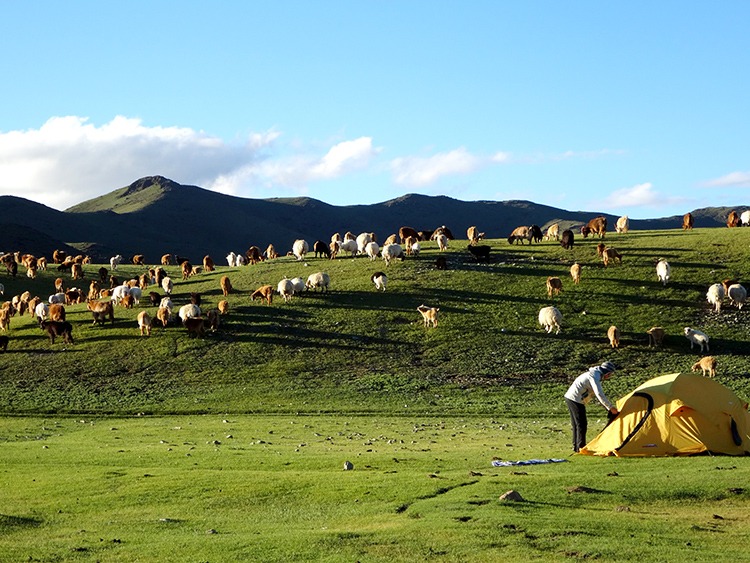 A note on the cycling
As far as fitness goes, if you were comfortable on the China trip you'll be fine in Mongolia. Distances are similar but it is all off-road so you should be comfortable riding on dirt and loose terrain. There are two half days where we ride on extremely rocky surfaces – as we approach and descend away from the main pass in the Khangai Mountains – but these can be ridden in the van if you wish to skip those sections. Otherwise, the majority of the tour is on hard pack jeep trails, so fast and flowing.
Like China, there is a climb almost everyday: these tend to be a lot shorter than the China climbs but have steeper sections towards the top of the passes that are more challenging (these can be walked if needed or enjoyed in the van!) Descents can be on loose terrain so we would encourage some preparation for this style of riding but, again, these can be managed to your ability. Most of the days are spent on flatter terrain though.
There'll be lots of river crossings so you'll get wet feet for sure! No need to worry though as the weather is warm and dry generally, so clothing dries out quickly. As it is more exposed cycling, you need to be prepared for hot, cold and (sometimes) wet conditions. Although showers don't last long, temperatures can drop quickly with passing hail and rain showers, however these usually bounce back up very quickly after the showers pass. This does mean that a good selection of layers for riding in is important in Mongolia.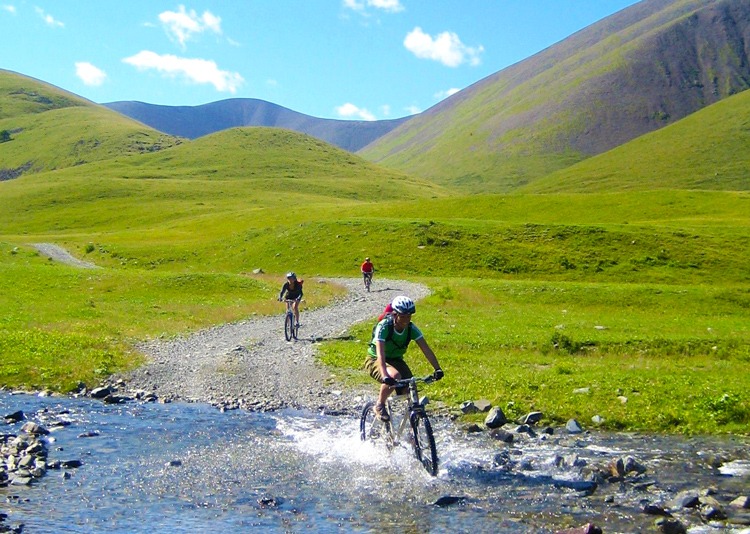 Need-to-knows
It's worth considering bringing your own bike for this trip. If you have a nice plush full suspension bike, this is the type of riding that you will enjoy on your own wheels. Full suspension bikes are definitely easier on the rear too! However, our supplied bikes (Giant hard-tails, similar to China) are more than adequate and I've ridden this route many times on them with no issue. And as per usual you can bring along your own saddles, pedals, etc, to put onto our bikes.
Days are very long in summer, so there's plenty of time to stop along the way to visit families, photo stops and time for exploring further on foot or two wheels once we arrive in camp each day. There's ample time and scope for those that want to take their time on the bikes to soak up the experience, or for those that want to stretch their legs and ride with speed, as we have plenty of support in guides at the front and back and support vehicles throughout.
I can't wait to get up to Mongolia every year as it's one of my favorite destinations. I'd love to see you up here and show you all the amazing landscapes, people and places.'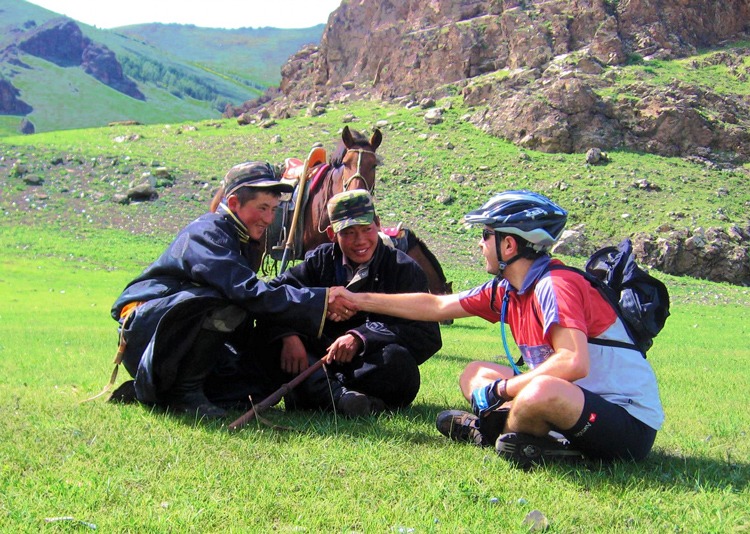 Feeling inspired or have more questions? Find out more about our cycling adventure in Mongolia, Route of the Nomads by visiting our website or giving us a call. Who knows, maybe you will join Scott on a future tour here!