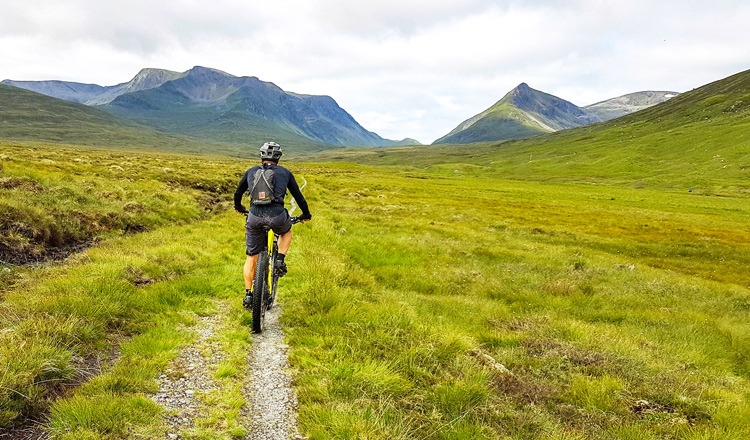 In our 25 years of traveling the world by bike, we've seen lots of amazing places, but there are some that we never stop getting inspired by and Scotland is definitely one of them. Hands down, it's a place home to some of our absolute favorite routes on the planet – a complete wilderness on our doorstep. And a breathtaking one at that!
That's right, our expert guides have hand selected the very best to savor at the speed of the mountain bike. Carefully crafted from years of guiding here, they've carved out two incredible itineraries through the Scottish Highlands that you won't find anywhere else – known to us as Highlands Coast to Coast and Celtic Crossing (*currently not available for 2023).
Eager to take a trip down the memory lane and find out more about these trailblazing tours, we decided to catch up with our legendary guide Steve Woods, one of the masterminds behind these two epic journeys (he's guided a whopping 48 Highlands Coast to Coast tours alone with us!) Here's what we learned and why we believe every keen mountain biker looking for adventure should have at least one of these tours on their bucket list…
Creating the routes: History, wilderness and a lot of experience…
We have done coast to coast journeys in the UK before, but back in 1999, we had not yet created something especially for mountain bikes in Scotland! Our team has long been inspired by these wild landscapes and have spent a lot of time here, so naturally we started to think about creating something exciting to share our love for Scotland with other Skedaddlers. That's how the idea of ​​our Highlands Coast to Coast trip was born, our first mountain biking route in Scotland. But having a great idea doesn't mean it's going to be easy!
There was no established route. There was one version of the coast to coast from Fort William to Montrose in Scotland at the time, and it would just take you through the narrowest bit – a bit too normal! It wasn't our idea of ​​an adventure, so we thought why don't we go and do it our own way, a way no one has ever done it before!
If you ask us to describe Scotland in one word, it would have to be wild. And when you're doing something that has never been done before, doing it in a complete wilderness is a challenge! This is where the amazing expertise of our guides comes in…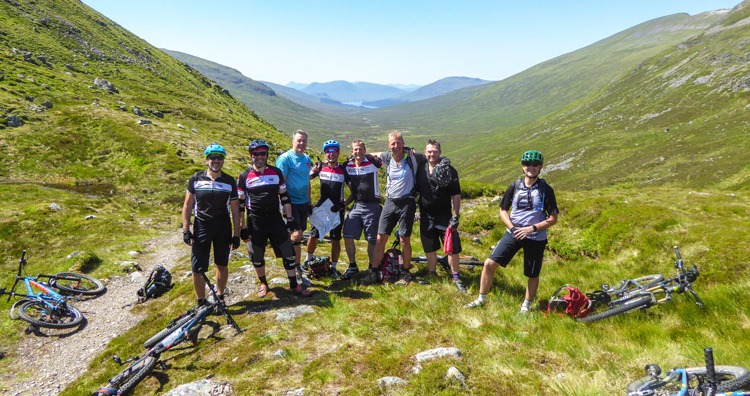 It seemed like a ridiculous idea at first, I won't lie, we didn't even think it was possible. But we were determined to create our own coast to coast route here! Myself and Ian Wingfield, who's an absolute guiding guru (Jedi Master of guiding, I always say!), would just go and explore Scotland for days and days, trying out routes and living rough in the wild. To help us, we used the maps dating back to 1800 that showed the paths drovers (that's someone who herds sheep or cattle) created, alongside General Wade's Military Roads. Using a combination of both, we mapped out our very own mountain biking route through the Highlands.
Our Highlands Coast to Coast tour that goes from west to east, became a massive hit with adventurous mountain bikers and is still a very popular trip in our range today. And it comes as a no surprise, after all, even to this day you won't find anything like this in the UK. Because it was such an exciting success, we couldn't help but be inspired, so we thought there must be a way to go from north to south too! That was the start of the creation of our Celtic Crossing (*currently not available for 2023) route back in the early 2000's…
Once again, we decided to do something that was never done before, because why would you really – there's a lot of mountains in your way going from north to south! So, myself and Tony Stoddart (another long standing, legendary Skedaddle guide!) had to put together more than 50 years of experience that we had between us of working in the mountains and testing trails, and craft it into a complete and doable route. But even with so much experience, we really struggled. Very often it would just not work out like we wanted, and we would have to go and try to find another way, over and over again. A lot of tracks we use now are not anywhere on the map! The way we would discover a lot of these places was by asking locals, and often they would just say for us to ride into what looked like nothing – that's how we would often find a perfect track for the bike in the middle of nowhere.
It became a project that was driven by tons of expertise and desire to make it work. In the final stages of the process, it took over six months just to finalize the route, not counting the years of experience that went into it. But just like they say, sometimes inspiration you need comes from the most unexpected places…
One time when I was in Reykjavik (Iceland), our hosts took us to the viking museum just by chance. And when I was looking around, I happened to see a map of something that looked very familiar. It turned out to be an ancient raiding map that the vikings created, detailing how they would get to the Stirling castle, which was considered a heart of Scotland at the time. Their idea was to land at the top and work their way down, going north to south, of course! So they let me photograph the map, and when we put it over our maps, it turned out that about 40-50 percent of the route was still there. It was incredible, what an inspiration for our Celtic Crossing (*currently not available for 2023) route!
Over many years, our mountain biking itineraries through the Scottish Highlands have evolved and been developed into what they are today by our incredible team of expert guides. This is what makes our Highlands Coast to Coast and Celtic Crossing trips so special and one of a kind. But, what is it like to actually ride these routes, we hear you ask…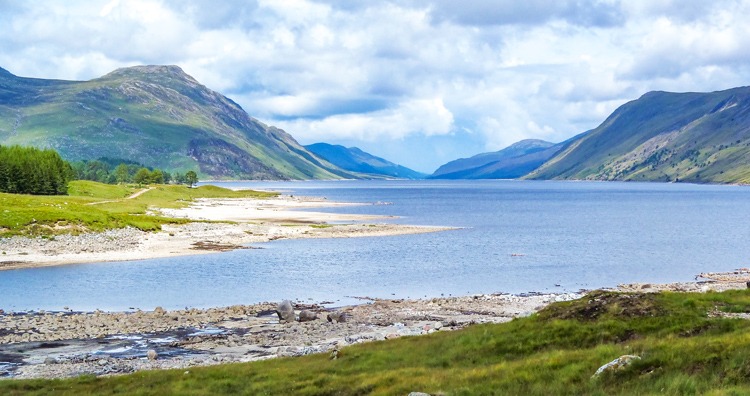 Scotland like you've never experienced it before
These two itineraries are mountain bike trips of the highest caliber, guaranteed to be the highlights of your biking career! All you have to concentrate on is traversing epic Scottish scenery on a biking adventure that takes you deep into the heart of the Highlands.
Scotland still feels like the last wilderness! It is still in charge here. Once you're there, there's only one way out – through it. Many places we are passing don't even have names, it's crazy. The first time it hits people how wild it is here, you can see it on their faces. More people have been to Everest, than cycled through here!
There will be challenging singletrack, ancient drover roads and rolling forest tracks to keep you on your toes at all times! You will be crossing some high mountains and with that comes the inevitable weather changes, and the potential for wet, cold and windy conditions, which all add to the challenge and sense of adventure. This is wilderness riding at its very best, but when possible our support vehicle will meet up to provide snacks and drinks, as well as our renowned picnic lunches to keep you nicely fueled.
We very often have to be creative with obstacles that come our way, and people actually love an unexpected challenge! It's the time when nothing else matters, here you are completely in the moment, you feel all the bumps on your way – that's a real feeling, a real adventure! You're so switched on, you feel everything and all you think about is the trail.
Learn everything about our Highlands Coast to Coast trip here!
Stretching over 500 miles combined, the journeys are full of memorable days on the bike…
Day from Kingussie to Tomintoul when we go Coast to Coast, is the best day you will have on a bike in your life! We leave Kingussie and from here we follow the route going from one barracks to the next, following the military routes. And after that – there's not much else, as we go through true wilderness, ancient forests and winding rivers. This day is all about the transition from being near famous tourist places to being in complete wilderness, that's what makes it so special.
… as well as spectacular moments to mark great achievements!
We end our Celtic Crossing (*currently not available for 2023) trip in Sterling at the William Wallace monument, where we have an exclusive permission to cycle right up to it that is normally not allowed for the general public.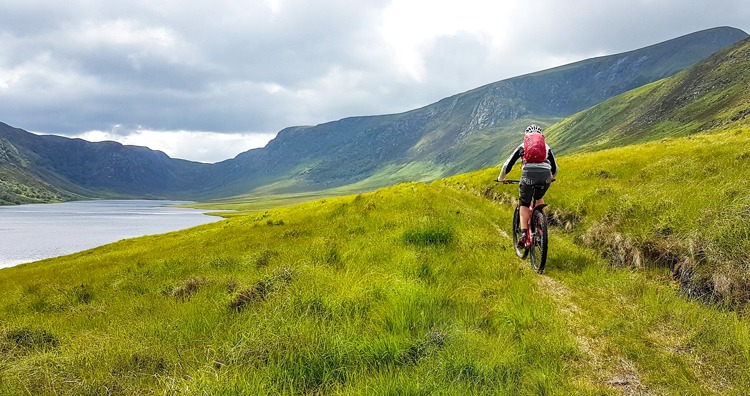 And of course, after a long day in the saddle everyone looks forward to reaching their stopping place for the night! We use small B&Bs, inns and family-run hotels that range from old Victorian houses to charming school houses – very often it is the only place to stay in the area! These are the trips where we stay somewhere because of the people, not for luxury – their hospitality is generous, their enthusiasm is infectious and they go out of their way to make us feel welcome…
Most of the places we stay in are made special by the people who run it – incredible characters! It's a very special part of the trip, the hosts you meet along the way. We have built great connections over the years with many hosts and land owners, and it's always great to have someone to call there – that's what makes it so amazing and gives us peace of mind too. When you meet people here, they want to talk to you and they always ask us what we are up to!
You might wonder about the names of the trips! While Highlands Coast to Coast is pretty self-explanatory, the Celtic Crossing name was inspired by the way two trips meet when you put them over the map. Going from west to east and north to south, they meet in the middle at the famous Corrieyairack Pass creating a cross – a Celtic cross! It represents the meeting place of great energies and a symbolic compass, offering spiritual navigation – we felt it was pretty fitting!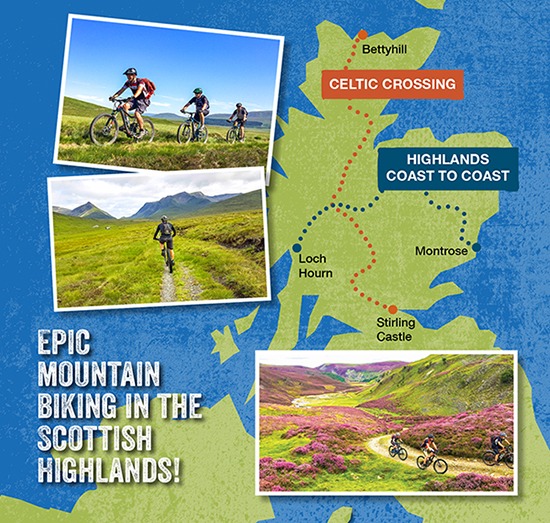 Once in a lifetime adventure: Is it for me?
Both of our Scottish biking routes in the Highlands are without a doubt once in a lifetime adventures! You will be rewarded with exclusive access to true wilderness all with the help of our expert guides.
They should appeal to anybody who still has adventure in their blood. You see, anyone with mountain biking experience can do it, as long as they accept that they're in the wilderness and have complete trust in their guides. It's a true adventure that might test you mentally sometimes, more than physically.
While Highlands Coast to Coast has more technical mountain biking sections which will challenge more experienced riders, Celtic Crossing (*currently not available for 2023) is more about going the distance with longer days on the bike which is a massive challenge on it's own for a lot of people. Being in the Highlands there are, of course, some serious climbs to tackle and some long, rough descents on both – so a good level of fitness as well as bike handling skills and off-road mountain biking experience are all required.
I've seen people in tears at the end of both trips so many times, in the best way. Because halfway there they would just think what the hell am I doing here? But we would get them through it and it's the moment they would realize that they will probably never get to do something like this ever again. It's emotional. For both us guides and our guests.
If you think you have what it takes – come join us on one of the trips! It's not something you can do on your own and with us you're in safe and caring hands, that's what is so exciting about it for people who join us here.
Check out our full range of mountain biking holidays in Scotland here!