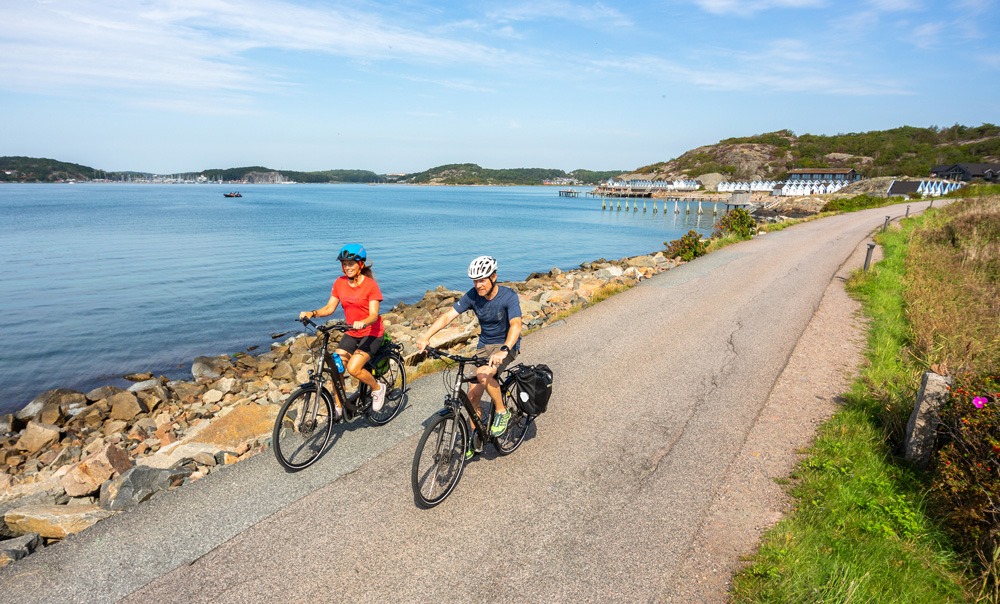 We are excited to announce a NEW self-guided leisure cycling holiday in Sweden starting in 2023. The 8-day trip follows the Kattegat Trail or Kattegattleden, Sweden's first national cycle path and named the Cycle Route of the Year in Europe in 2018. Check out 23 new reasons to visit Sweden in 2023.
Find out all the details about our new cycling holiday in Sweden here!
This 390-kilometre route follows the southwestern coast of Sweden, starting in Helsingborg, one of Sweden's oldest and culturally unique cities with deep Danish roots. Covering on average 60 kilometers per day over 6 days of riding, you'll pedal past sandy beaches, charming fishing villages, through wine country and nature reserves, and past several historical sites. With lovely accommodation and plenty of cozy eateries and cafes for grabbing a fikathere will always be opportunities for a rest and to take in the ocean view.
As you get closer to the end in Gothenburg, the landscape shifts to scenic cliffs, lush forests, and sheltered bays with quaint harbor towns. The ride finishes in Sweden's second-largest city where you will be able to enjoy its vibrant atmosphere.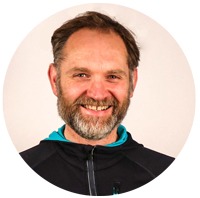 "We are excited to add the Coastal Kattegattleden holiday to our handful of Scandinavian trips on offer. Sweden is a beautiful country and this holiday enables anyone to experience the best of its culture and scenery on two wheels," Paul Snedker, co-founder of Saddle Skedaddle
Here are our six favorite things that you can experience on our Coastal Kattegattleden trip in Sweden that we think you will love…
---

Cycling On Quiet, Well Sign-Posted Bike Paths
The Kattegat Trail is a very well sign-posted tour that mainly follows dedicated cycle paths with only 10-15% on minor roads with little traffic. While the route is popular with cyclists, it's not nearly as busy as other classic European routes and outside of peak season (July to mid-August when Swedes take their summer holidays) it remains very calm.
---

Seafood, Seafood, Everywhere!
As you cycle along the coast, fresh seafood is in abundance. Once in Gothenburg, you definitely need to try a shrimp sandwich. And don't forget the pickled herring! Served in all kinds of ways and flavors, pickled herring has long played an important role in Swedish food.
Swedish cuisine puts the focus on using local, natural, and seasonal produce as much as possible prepared in both traditional and new ways. You will definitely eat well here!
---

The Art Of Fika
Fika, the delightful custom of enjoying coffee and a sweet treat like a bun or piece of cake with friends, is Sweden's answer to afternoon tea. Not just a simple coffee break, the social aspect is as important as the delicious pairing of a strong, hot coffee and a sugary pastry— Swedish cinnamon buns being arguably the most popular fika accompaniment. Best of all, it's not just for the afternoon—you can take a fika break anytime! Great news for cyclists, as there are plenty of cafes along the route in order to stop for your own fika or two throughout the day when riding.
---
Cities and Culture
Swedish culture is famous for many things – music, innovation, style (we can go on and on) – and visiting its cities is definitely a great way to immerse yourself in it. On our tour you will be traveling between two great cities of Sweden – Helsingborg and Gothenburg. Just across the Øresund Strait from Denmark, Helsingborg is steeped in history while also being celebrated for its innovation-driven spirit. Be sure to wander the picturesque streets of the city's old town, where you'll come across a string of historical buildings, including the medieval Kärnan tower, the only remains of Helsingborg Castle, which was built under Danish rule at the beginning of the 14th century.
The vibrant city of Gothenburg still retains its friendly seaside charm despite being Sweden's second-largest city. There's no better place to get your hands on high-quality, locally-sourced seafood than in the city's wide array of restaurants. And beer drinkers will be happy as Gothenburg is considered one of the world's top craft beer hubs, with an ever-expanding list of local breweries.
---

Allenmansrätt
In Sweden, you have the Right of Public Access whenever you visit nature–whether you're going for a walk, kayaking, bikin climbing a mountain or simply enjoying nature. It's a great way to ensure that the outdoors is not off limits to anyone!
---
Visit The World Porridge Making Champion
And last but not least if you like porridge… Steninge is home to the two-time winner of the World Porridge Making Championship, Per Carlsson. A soft-spoken lawyer who runs the Steninge Coastal Station on the west-coast of Sweden, Per cooks porridge for his guests every day in his porridge-bar. Proud of his culinary prowess, he even has a tattoo with Porridge World Champion and crossed kitchen utensils inked on his forearm.
As Per says, "Great porridge needs three key things; love, patience, and great ingredients."
---
Come discover Sweden on two wheels with us!