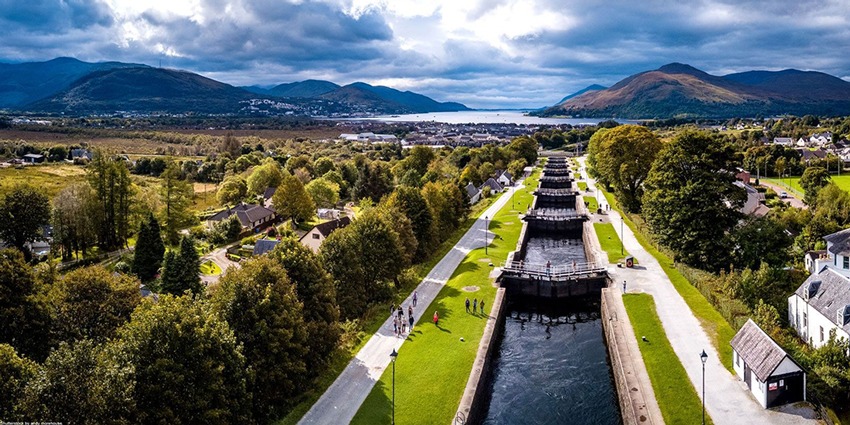 Part of the National Cycle Network, National Cycle Route 78 runs 234 miles from Campbeltown in southern Scotland up to Inverness, the gateway to the Scottish Highlands. Sustrans officially launched the route as the Caledonia Way back in 2016 as part of a wider redevelopment of Scotland's cycle network. While our 'new' route in Scotland is not exactly new, we have brought the Skedaddle touch to it, turning it into a well-rounded and accessible cycling trip that works in conjunction with ferry and train transportation to the region.
The Caledonia Way takes you through some of Scotland's most breathtaking countryside and picturesque scenery. Remote at times, the route combines quiet rural Scottish roads and flat canal-side meanders with forest trails and a smattering of gravel sections. Along the way, you'll pass lochs and mountains, including the lovely Loch Ness and Scotland's highest mountain, Ben Nevis. The trip is bursting at the seams with stunning scenery and picture-perfect pedaling opportunities, not to mention good wildlife spotting along the way including golden eagles, pine martens, and of course, plenty of hairy coos!
Find out all about our The Caledonia Way cycling holiday here!
---
NEW FOR 2023! The Caledonia Way
We've been eager to introduce a new cycling trip in Scotland for some time and this is the perfect complement to established classics such as the Coast to Coast (C2C) and Way of the Roses, and explores another beautiful part of Scotland we don't reach on our popular Lochs and Glens and Tour d'Ecosse trips. After chatting to our ever-helpful friends north of the border at Sustransthe Caledonia Way seemed the perfect choice for our next addition to the range.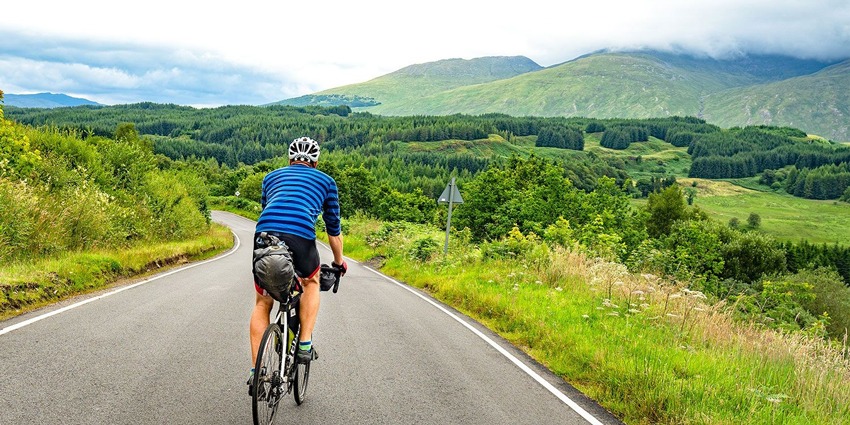 Covering 234 miles from the west to the east coast, the route takes in some of Scotland's most breathtaking scenery and most rural regions. Whilst the remoteness was a huge draw, the trip had to be carefully designed around ferry access to the Kintyre Peninsula and the location of group accommodation options along the way.
Last summer, Skedaddle co-founder Andrew Straw (Straws to anyone who's cycled with him) set out to bike-pack the Caledonia Way, braving everything the Scottish summer could throw at him, in order to pick the best route, find the best accommodation options, and sample all the cafe and end-of -day ale stops in order to create the best holiday for you.
---
Recce Highlights
Just a short hop from Glasgow, our journey started properly in Ardrossan, on Scotland's southwest coast. It's here that we caught the late afternoon ferry to Campbeltown, arriving a few hours later. "There's always something exciting about crossing a stretch of water by boat," Straws told us. "For me, it's a time for losing yourself in your thoughts and watching the world pass you by as you edge closer and closer to your destination."
Situated on the beautiful peninsula of Kintyre and once proclaimed 'the whiskey capital of the world,' Campbeltown is now Scotland's smallest whiskey-producing region, consisting of just three distilleries – in its heyday, there were more than 30. Its single malts boast unique characteristics that serious malt lovers consider to represent a distinct region in its own right. Fueled for the day with the obligatory full Scottish breakfast, it's a picturesque place to start our ride.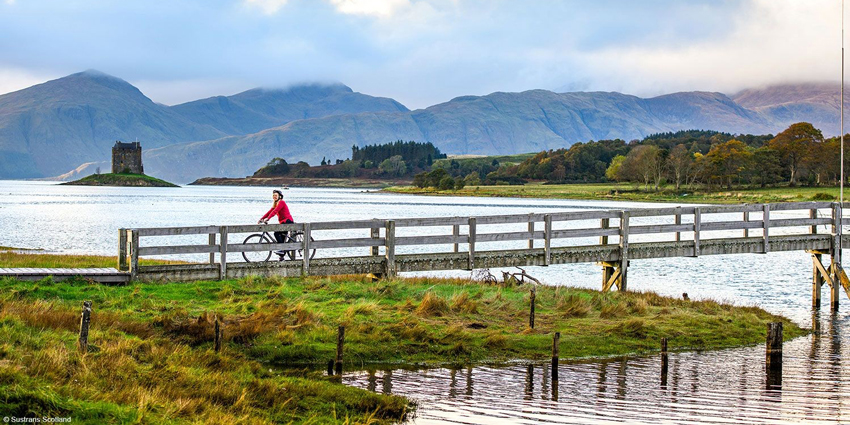 Our third day of cycling on the itinerary starts with an easy morning pedal along the towpath of the Crinan Canal, the perfect prelude to the stunning Kilmartin Glen. "Loch Awe was well… awesome and for me one of the most stunning parts of the trip with its traffic-free singletrack roads and roller-coaster ups and downs," said Straws. The cafe in Dalavich comes just at the right time to give your legs a rest and refuel with warm coffee or tea and an enormous slice of carrot cake. From Annat, the route becomes more pastoral with hairy coos peaking at you from under their messy fringes and after the cheekiest of climbs the descent to Oban is just wonderful.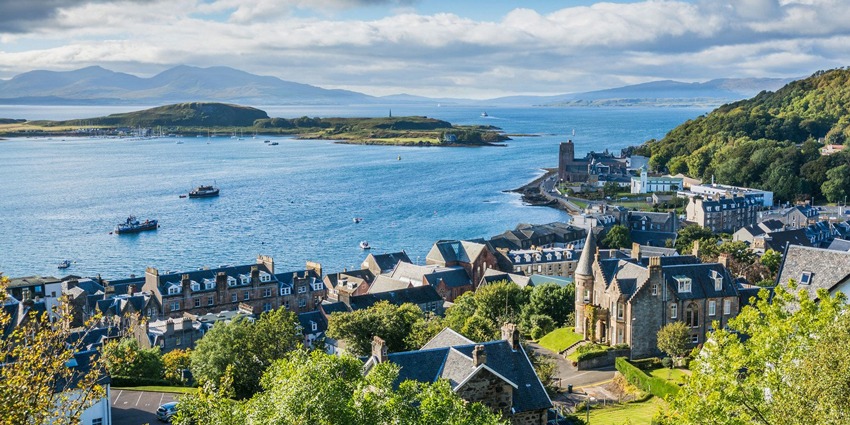 The last day's ride is a cracker! The fuzziness from one too many Hoppy Ness IPAs the night before was soon shaken out of us after a few pedal strokes as we took on the classic Scottish climb of Glendoe. At just over 5 miles long, it climbs around 366 meters and is certainly a Skedaddle classic climb in the making. After a wonderfully speedy descent to the Falls of Foyers, it was a lovely rolling 20 miles (mostly beside Loch Ness) before a final section of quiet rural roads lead us into Inverness.
---
Interesting Facts…
You can see Anthony Gormley's GRIP at Saddell Bay on the initial day of riding. It's not quite the Angel of the North in stature but is equally as stunning.
Kilmartin Glen is one of Scotland's richest prehistoric landscapes. Within six miles of Kilmartin village, there are over 350 ancient monuments, including cairns, standing stones and stone circles, so keep an eye out as you cycle along.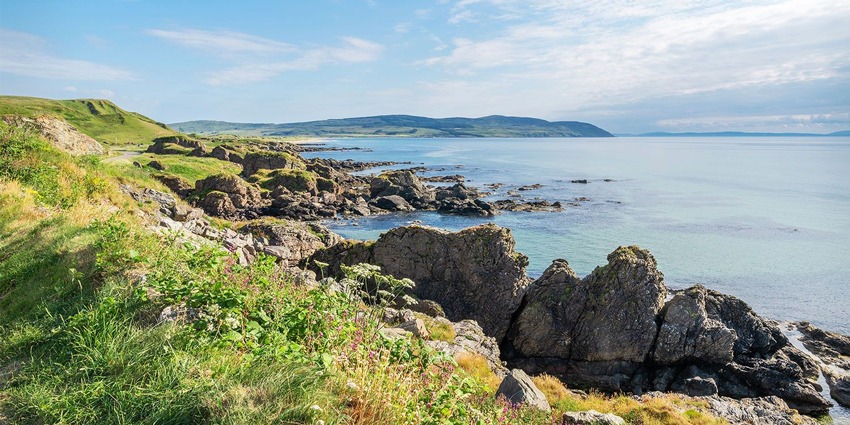 "Mull Of Kintyre" by Paul McCartney has sold an estimated nine million copies worldwide – despite having never been released as a single in America. It remained the biggest-selling British single of all time until usurped by Band Aid's "Do They Know It's Christmas?"
---
Words of Wisdom
Bring waterproofs! This is one of our higher-grade leisure trips and whilst it's manageable for most cyclists, you do just need to keep turning the pedals and not be daunted by the steep sections and Scottish weather of four-seasons-in-one-day. We know where folk can struggle on the route and have our trusty van stopped at handy points where we think someone might need a little boost with a snack or some friendly encouragement. Some great coffee stops along the way help with the smile count, too.

---
Better Than The North Coast 500
Whilst the North Coast 500 might get all the plaudits (it is a stunning route after all) popularity comes at a price. At certain 'honey-pots' along the way you'll see processions of garishly colored supercars driven by wannabee Lewis Hamiltons, edging their way along its windy route like someone has dropped a giant bag of Skittles. Add to the mix nervous rubber-necking campervan drivers who didn't quite realize the width of the vehicle they've hired.
The Caledonian Way is the opposite of this experience – so join us in 2023! "You'll not be able to buy a mug or an overpriced t-shirt with CW234 on it as you travel its length," laughs Straws. "But what you will get is a memory to last a lifetime and a slice of Scotland that few experience, and all by bike!"
Feeling inspired? Sign up for our NEW guided cycling holiday in Scotland here!