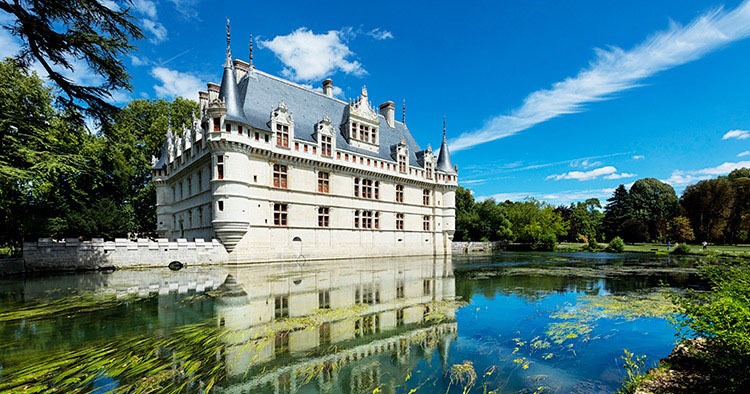 regular skedaddler David Bentley and his lovely wife Leila this time set their sights (and wheels) on the land of fairy tale castles, royal residences, and incredible Renaissance architecture – the famed Loire Valley, one of our cycling holidays in France! To our delight, they came back with stunning photos to show off their journey and a few curious insights to share too…
Cher and Sleeping Beauty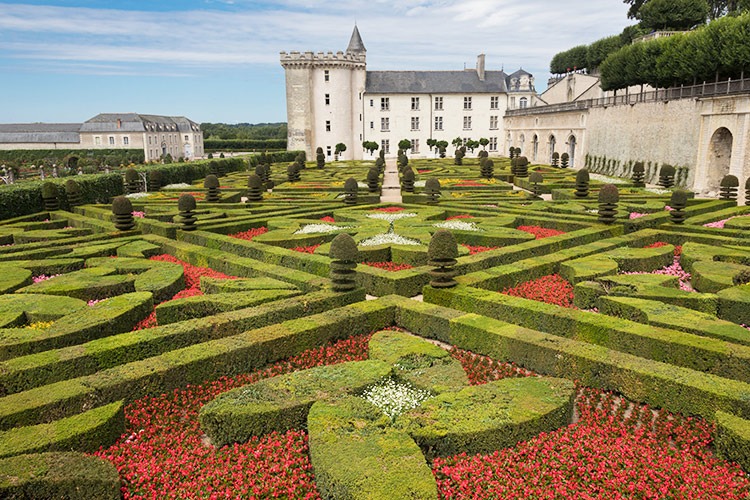 'Getting out of Tours was easy enough but took a bit of time until we finally emerged into the countryside and reached the River Cher. I was disappointed to find out that it wasn't named after the famous singer but this didn't stop me humming 'I've got you babe' as we cycled along. Appropriately it did turn sunny (or Sonny for those Cher aficionados) a few minutes later.
By the time we arrived at our first stop at the Château de Villandry I was on to 'If I could turn back time' which received some funny looks as we wandered round the famed gardens. The surroundings were indeed spectacular although the pictures probably won't do them justice.
Ten miles further on was the Chateau d'Usse known as 'Sleeping Beauty' castle. By now I was merrily humming the 'Shoop Shoop Song' which I thought was appropriate for the occasion. I couldn't work out why Prince Charming made such a fuss of getting into the place though as there's a bloomin' great road straight up to the front door. He's probably just a cheapskate and cut though the dense dark woods at the back just to avoid paying the entrance fee. Sleeping Beauty had obviously woken up and gone shopping or something as there was no sign of her, nor Prince Charming for that matter, but even without them to show us round the Chateau it was well worth a visit.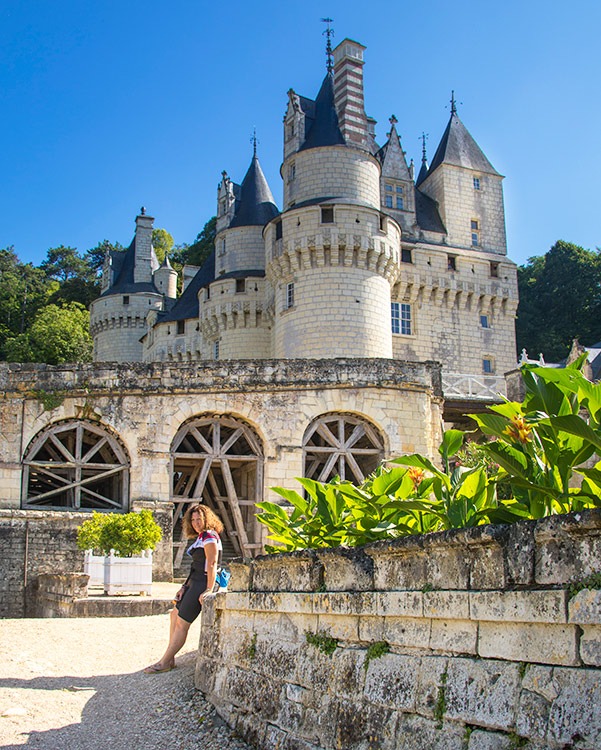 Degustation and the Chaser Sisters
Today found us pedaling along the banks of the River Vienne for a circular ride culminating in a visit to Fontevraud Abbey. After a completely flat day yesterday we met our first hill which was a bit of a shock to the system for a short climb up the side of the valley to be greeted by rolling vineyards for as far as the eye could see. I am reliably informed it is considered extremely rude not to stop for a tasting or 'degustation' of the local produce. So reluctantly we complied at a couple of wineries on the way. You get to try 3 or 4 different varieties of vino at each stop with the anticipation that you may purchase a box or two (although when they saw our mode of transport they didn't look very hopeful).
The Abbey of Fontevraud is an impressive world heritage site where Henry II (King of England), his wife, Eleanor of Aquitaine, and their son, Richard the Lionheart were all buried. It was disestablished at the time of the French Revolution and became a prison right up to 1963.
One of the most interesting information boards listed the hierarchy of the monastic community with the various roles each sister played. The 'Portress' (receiver of messages) and the 'Doorkeeper' (holder of keys) both seemed to have fairly easy lives, whilst the 'Chaser Sisters' would come in really useful in our household in their role to "chase up the idle , the chatterers and the dozers" Noticeable by their absence however were the 'Pointer Sisters' (who could give directions), the 'Scissor Sisters' (obviously hair cutting) and 'Sister Sledge' (who could organize winter sports activities).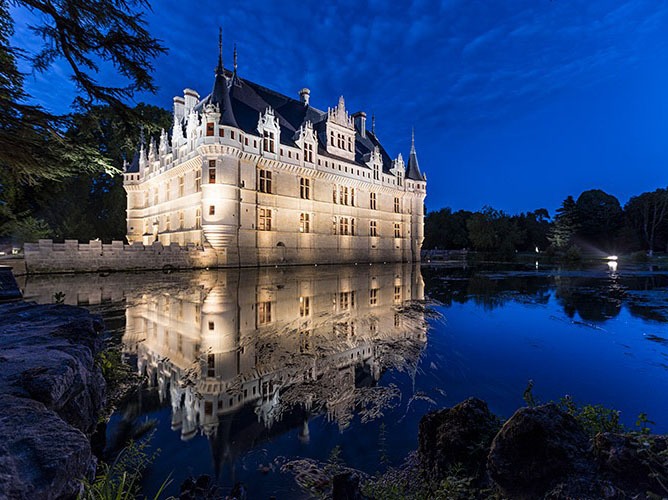 Gateaux by the Chateau and Lycra Envy
Once in Azay-le-Rideau, with our bags still not due to arrive to the hotel for a few hours, we wandered over to the chateau for another immersion into the French Renaissance. One disconcerting thing you notice as a cyclist walking round historic houses is that almost everyone looks you up and down and then says something quietly to their partner. I hoped they might be thinking how good I looked in Lycra with my herculean toned body, but then again maybe not.
The chateau itself was probably my favorite of all those we visited and a photographer's dream. Especially good is that they open the grounds at 10pm in the summer months free of charge so you can see the chateau lit up in all its glory.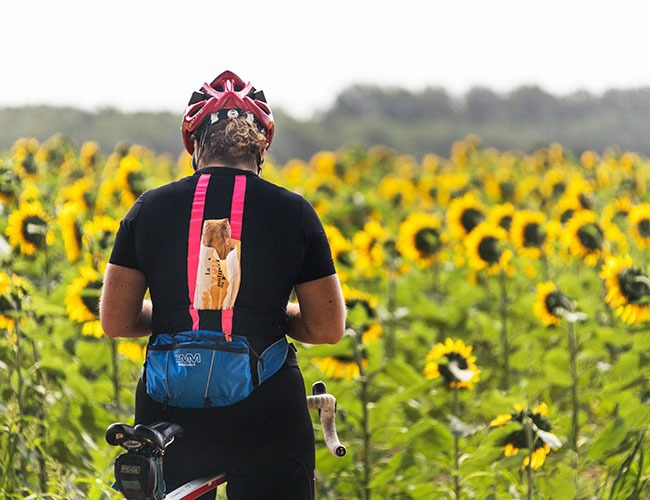 Infidelity and a baguette
With blue skies promised all day we decided on a picnic and acquired the various provisions at a local market on the way. Indeed it is a little known fact that Napoleon invented the baguette so that it would fit in the back pocket of a cycle jersey for that very purpose.
Chenonceau is spectacular and was gifted by Henry II (the French one) to his mistress Diane de Poitiers who lived there for 12 years and created a formal garden. It is alleged that when receiving guests Henry would sit on Diane's lap, play the guitar and chat about politics all in front of his own wife Catherine de Medicis. On Henry's death her unsurprisingly Catherine evicted Diane and claimed Chenonceau for her own dela, creating her own formal garden in the process and no doubt gleefully dancing on all the plants in Diane's
Chambord and a light show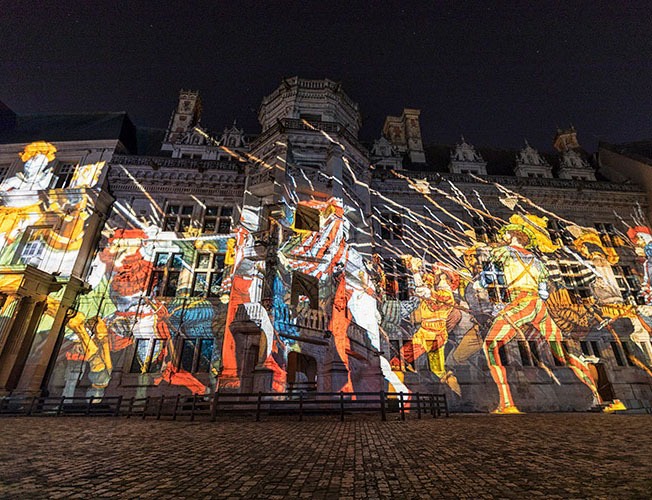 With a couple of potential chateaus on the way we decided to miss the first so that we could concentrate a lot of time visiting Chambord the largest and most flamboyant chateau in the region. Originally built as a hunting lodge it's totally over the top, with a small matter of 440 rooms and 84 staircases all surrounded by a 13,000‑acre wooded park enclosed by 20‑mile wall. The cost of upkeep was so great that for a good proportion of its history it was left abandoned as no one was prepared to take it on.
Much of the fabric building however has now been restored and a few of the rooms filled with furniture to provide a glimpse of its glory years. In addition some of the building's upper floors have been devoted to more modern art exhibitions. It really is worth a good wander round.
Blois Castle is noted for its summer light shows which start around 10.30pm. After a tiring day I must admit sleep was beckoning, but in the end sitting on the hard courtyard helped us stay awake and the spectacle was indeed very much worth the discomfort.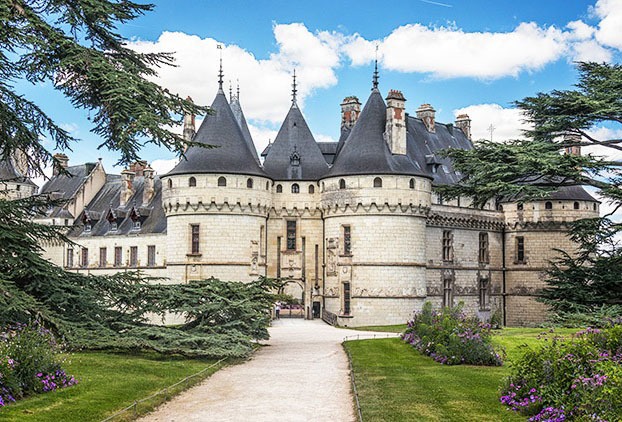 An unscheduled stop and Chris Froome
One of the first villages you pass by is Chaurmont with its own Chateau. We decided just to have a quick look, but ended up spending four hours! The chateau is fascinating on its own, but combined with the gardens which host an international festival each year we were really glad we'd dropped in.
After a couple of hours cycling we came across a village fete and stopped for a few minutes rest and refreshment. Without any hesitation the local master of ceremonies complete with roving microphone made a beeline straight for us. Now my French is virtually non existent, my wife on the other hand is reasonably fluent so she ended up being interviewed in front of the whole village. By the end we were local celebrities, everyone knew where we were from and our full itinerary for the holiday, I was told later we'd also got an invite for dinner, another 'degustation' at the local vineyard, and gained marriage proposals for our two daughters.
While all this was going on I had various locals come up to shake my hand and wish me well. One in particular emerged from the beer tent to shout "Anglaise, Anglaise, Chris Froome, Chris Froome" putting his thumbs up and dancing about. He took pleasure in examining my hire bike making various approving metering before patting me on the back shouting "Chris Froome" once more for good luck and making his way back into the tent.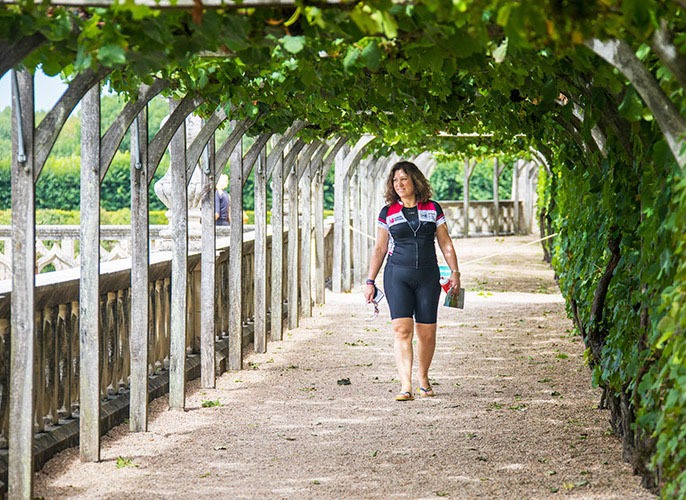 Final thoughts…
Was it only 6 days ago that we started out from the very same place? It seemed that we had done so much. The problem with this holiday is not what to see, it's more what to leave out. There is just so much to do in this region that you could do it all over again and visit completely different things.
One of the best things about a cycle holiday is that there always seems to be a sense of achievement when you've completed it. You are often a little bit tired at the finish but this is the first time that we can say we were well and truly Chateau'd!'
Feeling inspired? Check out our full range of leisure cycling holidays in France.