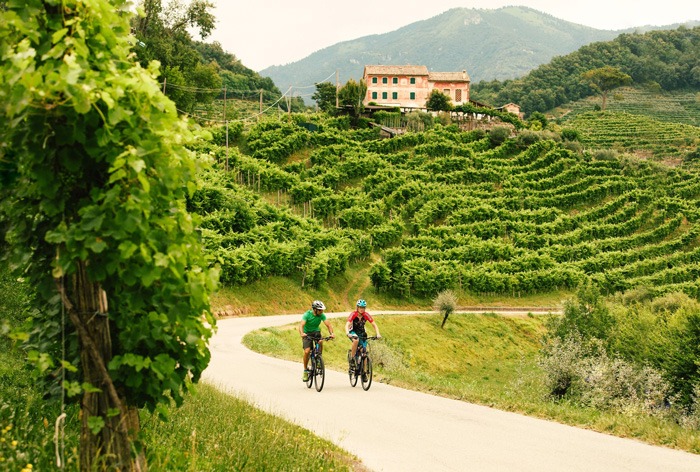 Prosecco is arguably one of the most popular types of sparkling wine in the world. Have you ever wanted to learn more about the origins of this light, fruity, and fizzy wine? Are you a bit of a foodie who wants to gain a feel for the sights, sounds, and smells of the terroir that you can only get when exploring by bike? Then listen up as we have just added three new trips to our range in the Prosecco region of Italy, with itineraries for both leisure and road cyclists.
At Skedaddle, we are no strangers to 'Bel Paese' (meaning 'beautiful country' – we've been offering holidays in Italy for over 20 years). Starting in 2022, we are set to explore a new to our range region of this beautiful country since it not only offers great cycling with its quiet roads, rolling vineyard-lined hills, and areas of natural beauty but also produces some of the best food and wine in Italy.
Located in the northeast corner of Italy, our holidays begin in the historic town of Treviso – a popular destination for cycling enthusiasts and home to bicycle manufacturer Pinarello. Our trips offer a unique mix of place-to-place as well as center-based cycling that gives you the chance to get to know the area better, meet with local producers, and enjoy the wine and food on offer, all without the worry of packing up your bags each morning. On our leisure itineraries, you will also be ending with a ride out to the bustling beach resort of Jesolo, on the Adriatic coast – dipping your toes in the sea to finish your journey!
Find out more about our cycling holidays in Prosecco, Italy here!
---
Meet Giovanni – Maître de Maison at Villa Abbazia…
On all of our new Prosecco holidays, we spend three nights at Hotel I Chiostri, part of the Villa Abbazia complex. And on our self-guided trips, you can also choose to upgrade to stay at the luxury-focused Hotel Villa Abbazia Relais & Chateaux. Either way, you have access to the facilities and Ristorante La Corte for an unforgettable meal each evening. We caught up with Giovanni Zanon, Maître de Maison at Villa Abbazia to learn more about his hotels and why he loves sharing the best of this region of Italy with fellow cyclists…
'Villa Abbazia is a small, family-run hotel. Our property comprises three main buildings: the 18th-century mansion which hosts social areas, the lobby, 12 suite bedrooms, the Restaurant La Corte, and the charming Villa. This part of the property was a family residence that was converted into a hotel in the 90s. My sister has been looking after the interior design while I take care of the customers. I am also the maître d' at the Restaurant La Corte. The adjacent hotel, I Chiostri, used to be a convent and we converted it into a hotel with 15 rooms and suites – spacious, bright, and quiet, all different and furnished with eclectic design elements.'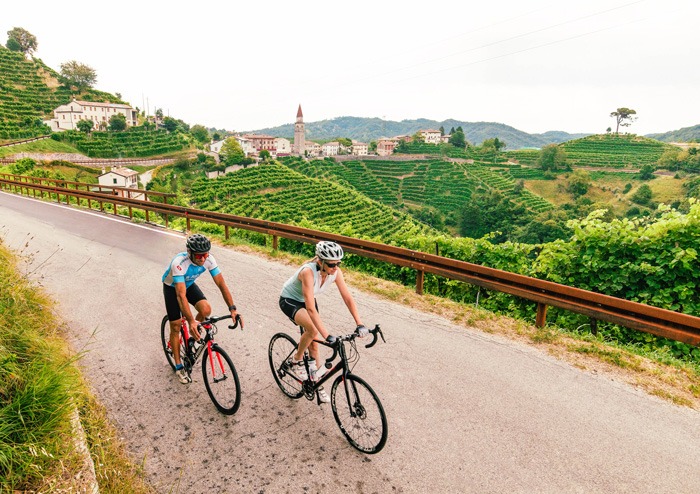 Villa Abbazia is located in the town of Follina in the heart of the Prosecco region. It makes an ideal base for a cycling holiday as from there you can loop out into the rolling hills carpeted with vineyards, explore the natural beauty of Cansiglio Forest or Lake Revine, and discover some of the most beautiful villages in Italy such as Asolo, Maser , and Bassano del Grappa. You'll find routes catering to a wide range of riding levels, from easy to challenging.
When not busy running Villa Abbazia, Giovanni loves to ride his bike. You may see him hopping on his bike for an early morning blast before work or if he can steal some time away from the hotel, join guests on one of their outings.
'The routes in the region are so special to me as they are never boring – the landscape speaks of art, traditional food and wine. You can head out on the bike, stop for lunch at a lovely family-run osteria, and head back to the hotel having spent a great day out.
Because I need to be in the hotel for breakfast, I head out very early in the morning with friends, at dawn, and I loop around towards Rolle and back again. The roads have hardly any traffic, the colors of the hills, whatever the season, are lit up by the morning light. I never get tired of riding here.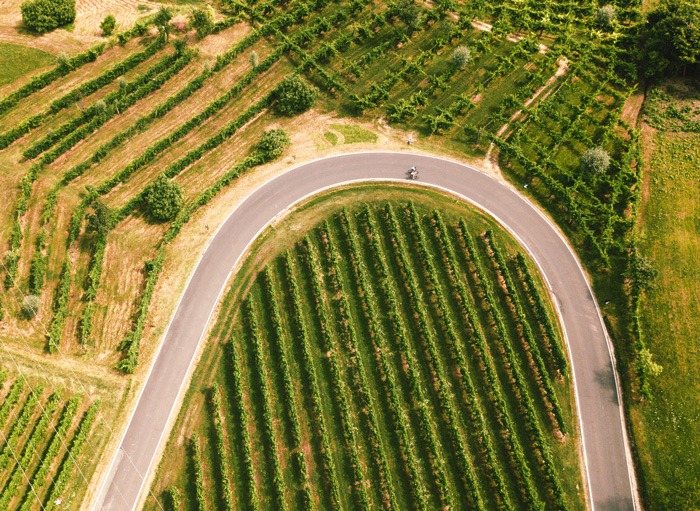 I love having cyclists stay at my hotel because I am a cyclist, too. I enjoy sharing my knowledge of the area and my passion for cycling. This is what I dream of when I am on holiday. I sometimes get to ride with our clients, if I can get away from the hotel, and this is what I love doing the most.
We are the best hotel for cyclists as I listen to their needs. We are not a typical 'bike hotel', our uniqueness is to provide clients with information to support their rides and look after their needs once they are back at the hotel, by offering caring hospitality, an Italian home to relax in, and of course refined local food and selected wines.'
While wonderful to visit any time of year, we run our trips to the Prosecco region between April and October as that's when the weather is warm but not too hot.
'I don't have a favorite season, but I enjoy the period from April to November as this is perfect cycling weather in this area. I do look forward to autumn, as we have an important event called "Gran Fondo del Prosecco," which brings thousands of riders here in this area to ride our classic prosecco hills. It's a great day of cycling, and post-ride, we could not leave out the party time of eating and drinking some of the best food and wine in Italy!'
---

Famous bubbly and so much more to taste and enjoy…
The Prosecco region is about more than just wine – there are other must-try local ingredients and products when visiting, all of which pair well with a glass of local bubbly of course! There is the renowned 'Radicchio di Treviso' – a milder variety of this bitter lettuce often found in salads and risotto. Sopressa is the local type of salami, packed with delicious spices and garlic. And any cheese-lover must try the 'formaggio ubriaco' or 'drunk cheese' – cheese cured in wine. Along the way, we meet with artisan producers of these regional specialties and find many local ingredients on restaurant menus.
'When our cycling clients ask me where they can go to taste some local specialties, I send them to some local producers that I personally know. There is, for example, Perenzin Cheeses in St Pietro di Folletto. The family has produced cheeses since 1889 – for more than 30 years the Perenzin Latteria is the leader in Italy in the production of organic cheeses. They specialize in the creation of refined and 'drunk' cheeses from cow, goat and buffalo milk.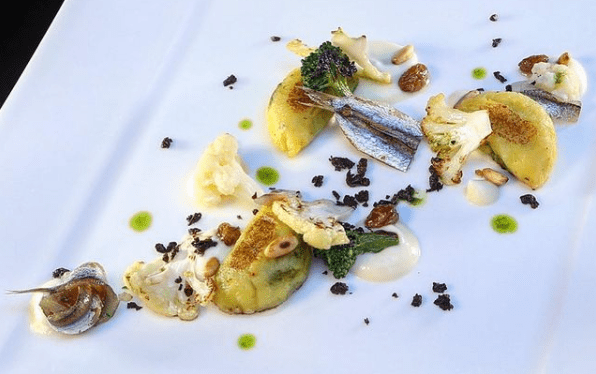 "Drunk" cheese is something that needs to be tried, unique to the Veneto region. During the grape harvest period, between September and October, the carefully selected forms of cheese aged for about six to eight months are immersed in grape must and left to ferment for about 30 days. They are then removed from the vats and left to dry and finally they start aging for anywhere from six to eight months. Each different grape and wine used in the process gives a different taste to the cheese. These cheeses combine very well with a crispy Cartizze Grand Cru.'
When staying at Villa Abbazia, we have access to Ristorante La Corte each night to satisfy our appetites after a day of exploring by bike.
'One of my favorite local dishes that we serve at the restaurant is Sarde in Saor, an appetizer based on fried sardines, seasoned with sweet and sour onions, pine nuts and raisins, typical of Veneto cuisine. Also, Tiramisu, which originated in this region – ours is homemade of course and people love it!'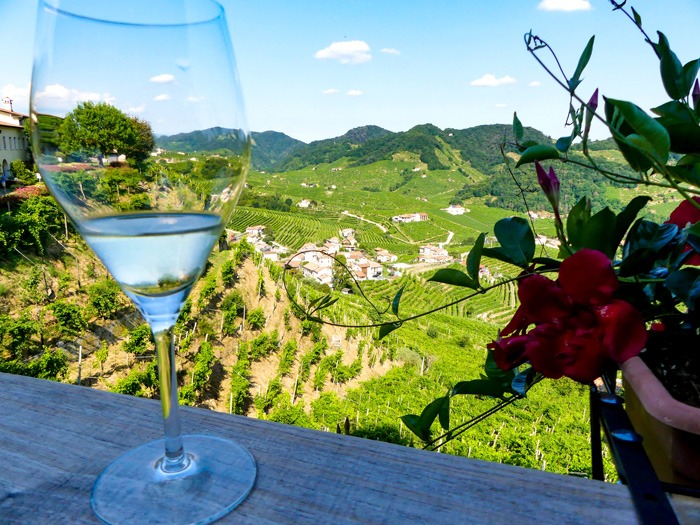 There are 140 Prosecco producers in the region. While the most exported and distributed varieties of Prosecco are Extra Dry and Brut, there are actually many more varieties to try when visiting the area such as Col Fondo – where the second fermentation is done in the bottle resulting in a cloudy, more sour-flavored wine with yeast sediment; Tranquillo – a non-sparkling wine; and Cartizze – the most exclusive (and expensive!) Prosecco can only be made from grapes coming from the 'Cartizze' area. We have the opportunity to visit one of the Cartizze producers, Garbara, as we pass through the region.
Giovanni's favorite Prosecco producer is Sorelle Bronca in Colbertaldo, which we pass on the route during all of our trips…
'Sorelle Bronca in Colbertaldo has the most complete cellar, producing mostly Conegliano–Valdobbiadene Prosecco Superiore DOCG. It also produces some of the best reds in the area. It is run by two sisters who inherited knowledge and passion from their father and grandfather. They are a progressive business, always trying to experiment with new natural ways of protecting the vine and the crop by associating different plant species for example.'
---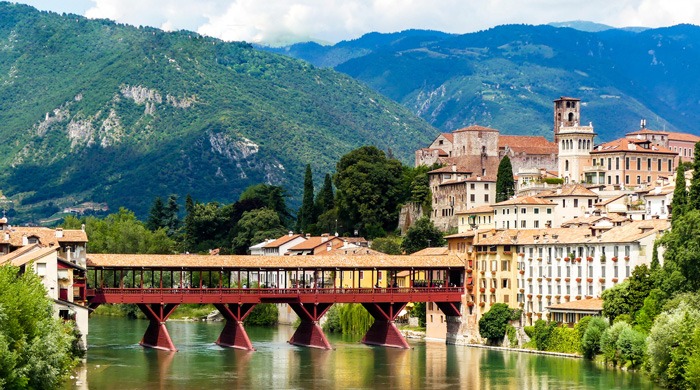 Salivating and ready to roll? Come join us as we explore the heart of the Prosecco region on two wheels and discover the origins and secrets behind one of the most famous sparkling wines in the world. We have now also added a guided leisure version of the itinerary to our range for 2023! We guarantee you will end each day not only fully satiated, but also with a sweet sense of accomplishment that comes from discovering the area under your own power. It's the ultimate foodie experience on two wheels!
Doscover our full range of cycling holidays in Italy!