The world is so huge, we know it's hard to decide where to go for your next family cycling holiday. There are so many wonderful countries to explore, but there's also amazing treasures to be discovered closer to home. We've thought long and hard about the benefits of both, and thought we should share them so that you can make the best choice for you and your family!
Check out our full range of Family Cycling holidays here!
Enjoying the moment…
Near: More time with the ones you love – Cutting out the long flights means you'll have more time and money to enjoy the time with your family. If you're looking to fit some quality time with the kids into a long weekend, how about our 3 day Highlights of Hadrian's Cycleway which simply explores the best bits of the route… Or try our Bike Skills weekends in Derbyshire and the Lake District, which are perfect for your family to build cycling skills together, on amazing, mainly traffic-free routes!
Far: Once in a lifetime memories – With all of the unique experiences had on an adventure to a far flung place, you'll all be sure to remember the fun for years to come. How could you not remember channeling your inner Indiana Jones or Lara Croft at Incan ruins in Peru, or playing Robinson Crusoe on the small island of Su Giudeu in Sardinia.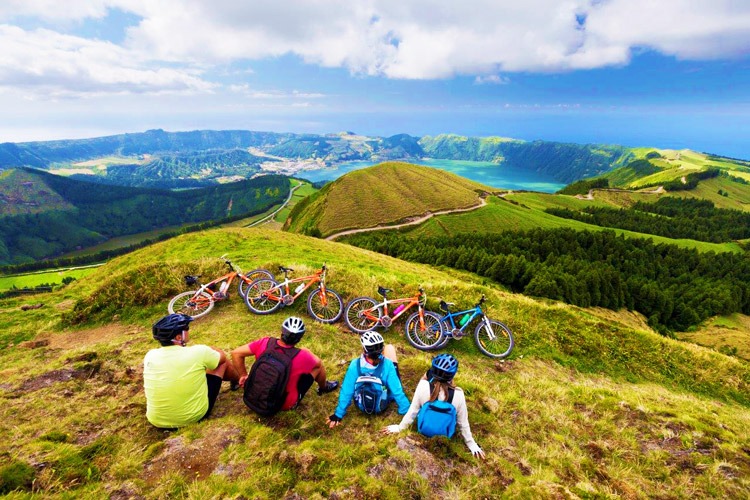 Learning more…
Near: Explore history – Many of us don't really explore what's right in front of us, so take the opportunity to discover the treasures, history and cultures closer to home. How about discovering Europe's largest surviving Roman monument, Hadrian's Wall, or with just a short hop across the channel, explore the Chateaux of the Loire on our Valley of Castles holiday in France?
Far: Discover new cultures – Learning and engaging with other cultures can be a life-changing experience for the whole family! Meeting locals and engaging with different people, places and experiences can really inspire creativity and new ideas for children. How about visiting expert silversmith Michele on our Norway Biking with Vikings trip, who has worked in Nusfjord for almost 20 years, or why not travel back in time through the maze-like streets of Assisi on our Spirit of Umbria family cycling holiday.
Try things a different way…
Near: Make getting there more fun – Leave behind the calls of 'Are we nearly there yet?' with destinations only a train or boat ride away. You can be pedaling your way to good food, comfortable accommodation and beautiful cycling routes of Ile de Ré and the Atlantic Coast, France. (And enjoy the added bonus of avoiding taking the kids for any jabs!)
Far: All new experiences – Going abroad provides a whole array of new things to try, from swimming in hot springs in The Azores to camel riding in Morocco, to seeing incredible local wildlife such as monkeys, birds and even jaguars in Costa Rica! Experiences like this could introduce them to a new passion as well as giving them an adventure to tell their friends back at home!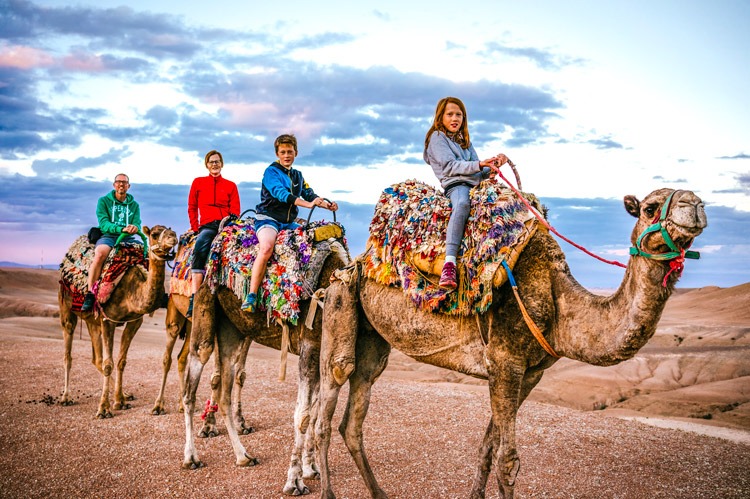 Discovering New Things…
Near: Try a local language – There are plenty of languages ​​just a stone's throw away. Say Hallo to Holland on our Windmills and Golden Beaches Bike and Boat holiday, or Bonjour to France on our Dordogne Discoveries holiday. Even if just staying in the UK, there are plenty of new words to discover. Haway, why not visit the hyem of Skedaddle in Newcastle! With the bairns in tow, the whole family can learn all sorts of new canny dialects, including Geordie on our trip gannin' along the Northumberland Coast!
Far: Find new tastes – Adventuring on a holiday abroad is sure to introduce the whole family to new tastes and flavors – from the freshest daily catch with lashes of Asturian culinary tradition in Spain to the most delicious gelato you've ever tasted in Lake Garda, Italy, there's something for everyone (who can resist gelato!?).
Making life easier…
Near: Be more flexible – Holidaying close to home allows you to be more flexible with dates when planning around school holidays or even just a long weekend! Also, without flights to arrange, a short break nearby could be the perfect last-minute getaway. What could be more flexible than choosing your own dates on a self guided holiday in the UK or France!
Far: Get away from it all – Changing the scenery around you so dramatically can really help you to relax and disengage from the worries of daily life. And what could help you to refresh and recharge better than the wild forests, lush meadows and beautiful coastlines found in Denmark.
Check out our full range of Family Cycling holidays here!
Whether you fancy a family cycling getaway to a far flung location, or an adventure closer to home, we've got something to suit everyone. Check out our full range of family cycling holidays here.