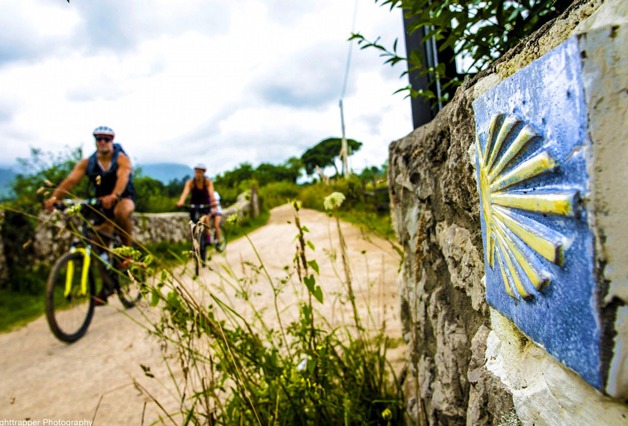 The world-renowned Camino de Santiago is one of the most inspiring linear journeys on the planet! At Skedaddle, we believe pedallin' the popular pilgrimage provides a unique way to soak up this ancient corner of Spain.
Buen Camino, Skedaddlers! For centuries pilgrims and travelers have made their way on a vast network of routes across Europe, to reach the shrine of St James at the cathedral of Santiago de Compostela in Galicia.
Many who take on the journey are still drawn by its spiritual lure, but the Camino has so much to offer. Outdoor enthusiasts are increasingly taking to the trail in search of a rewarding challenge that offers an unrivaled sense of comradery and achievement.
Whether you set out with a reason, or find one along the way, one thing is for certain, we guarantee you will fall in love with this corner of Spain. Boasting mighty mountainscapes, lush countryside and quaint villages, it has a vastly different feel to other places you've likely encountered in the country. Not only that, the myths, markers and moments with people along the way, are what make every Camino uniquely inspiring and moving…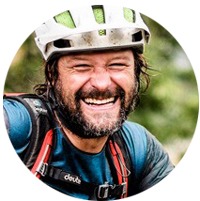 The Camino offers a breathtaking blend of West Ireland and New Zealand. I've been doing this route since 2001 and every time I see something different, it never gets boring. – Dan Hirst, Skedaddle Spain head honcho & regular Camino guide
Discover our Camino itineraries to find your perfect route
---
The Story Behind: The Camino
The Camino's origins are steeped in Christian faith and date all the way back to the 8th century when the remains of St James the Apostle were supposedly found in Northern Spain. For anyone unfamiliar with this name, St James was one of Jesus's 12 disciples and the first to become a martyr after he was beheaded in Jerusalem by King Herod.
During his life, St James had traveled to the Iberian Peninsula and spent many years spreading the word of Christianity here. It is believed after his death his his remains were shipped back to Spain and eventually buried in the Cathedral of Santiago de Compostela in Galicia. This is why the route is also known as 'the way of St James', in fact, Santiago is actually the Spanish equivalent of the name James.
The Spanish King Alfonso II is believed to have been the original trailblazer of the Camino. Setting off from Oviedo in the 9th century he walked to Santiago de Compostela on what is now known as the Camino Primitivo. Since those early days, hundreds of thousands of pilgrims have traveled from all over the world to take on their very own Camino journey.
Today there are several recognized Camino routes starting in a variety of different places, including Spain, France and Portugal. Each trail ultimately leads to Santiago de Compostela.
---
Camino, at the speed of the bike…
Typically the Camino is conquered by foot, however cycling the Camino not only challenges you, it also provides a perfect pace to explore. Taking to two wheels is the ideal option for those who want to see more of the legendary landscapes, but don't have the luxury of ample time off.
You'll pass lots of pilgrims in the morning – it's typical for walkers to set off very early, so that they can try and get to their next destination in good time to claim a place to sleep. This usually means the trails tend to get a little quieter by the afternoon.
The trails and conditions are also great for a variety of bikes. At Skedaddle we have 3 inspiring ways to ride the route – offering something to suit every kind of cyclist. This makes it a very accessible and achievable challenge for everyone.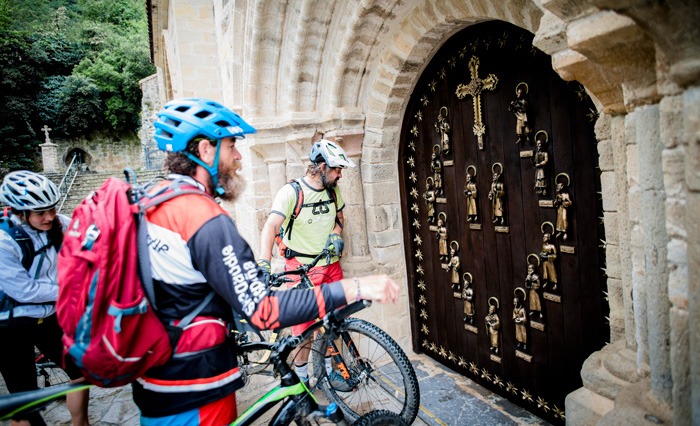 Camino de Santiago: Best for leisure cyclists
This journey follows the most popular Camino Frances trail and picks up the route from Ponferrada. This is the classic route everyone has heard of and uses a mix of quiet roads and gravel tracks. Available as a self-guided trip and a guided holiday, with a special e-bike departure!
Camino Primitivo: Best for mountain bikers
Experience the Camino 'The Original Way' on this tougher journey exploring more remote trails off the beaten track. The terrain is varied with sections of ancient drovers' trails, sinuous single track and back lanes.
Road to Santiago: Best for road cyclists
This varied journey begins on the Cantabrian Coast exploring the Camino de Norte (The Northern Way), before heading inland to join the mountainous Camino Primitivo and finally merging with the classic Camino Frances.
---
The Pilgrim Experience Explained
Alongside legendary heritage, the Camino comes with some unique features which make this cycling holiday all the more memorable.
Compostela certificate
On all 3 of our Camino journeys, you can claim your Compostela – an official document to confirm you have completed the Camino pilgrimage. In order to do so, travelers collect stamps along the way in a designated pilgrim credential (or passport). You can collect stamps in multiple places including accommodation, cafes, bars and churches. Once you arrive in Santiago, you take your passport to the pilgrim's office near the cathedral, and they'll sort the rest. For those who travel with Skedaddle, we'll provide you with your passport at the start of the trip. As far as holiday souvenirs go, we don't think they get better than this!
Scallop shell signs
You'll not have to worry about getting lost on the Camino, every route is well signposted by iconic scallop shells which help guide the way to Santiago. Commonly found on the shores of Galicia, it's become the key symbol of the Camino and you'll pass many pilgrims adorned with these shells too. Our favorite theory is that they were used by pilgrims to scoop up water to drink from fresh springs – luckily we have handy water bottles these days.
---
Northwest Spain: Ancient, green and gorgeous
As with every Skedaddle cycling holiday, our Camino tours take you out into the glorious outdoors and the northwest of Spain is a place that promises to surprise you. This sparsely populated corner of the country boasts stunning rural beauty; a land vastly different from the modern high-rise resorts that dot the coastline of Southern Spain. Here sleepy villages are nestled in picturesque valleys, surrounded by abundant ancient woodland, eucalyptus forests and the sound of cowbells drifting on the air.
Whilst Santiago is the historic crowning jewel of the tour, en route you'll discover many ancient settlements which provide a fascinating insight into Spain's ancient and medieval past. The mountain village of O'Cebreiro, which leisure cyclists encounter on Day 3, is home to thatched round stone houses which date back 1,500 years.
For those that choose to join our road cycling tour, you'll start by exploring the Cantabrian coast, home to dramatic cliffs back by lush green mountains. This journey also goes beyond Santiago de Compostela, heading on to Finisterre. This is the most Westernly point in Europe, dubbed none other than 'the end of the world'.
---
Food to keep you fueled
All that exercise deserves some healthy indulgence! For those joining us on a guided cycling holiday of the Camino, we'll be whipping up a delicious Skedaddle picnic each day you cycle and which will feature plenty of locally inspired treats. If you're taking on our self-guided tour, keep your eyes peeled for the pilgrim menu (pilgrim menu) options which you'll find in almost every café or bar you pass by. These usually consist of a two-course meal at a reasonable set price and provide plenty of fuel for an afternoon in the saddle.
For a true taste of the Camino, we recommend you try:
Padron peppers – Veggies rejoice! The greatest veggie tapas can be found in Galicia. Padrón are small, green peppers grown in the region and are usually mild in flavor. Occasionally you'll bite into one that may be a little spicy, which adds to the fun of the dish…
Caldo Gallego – A potato broth with beans and green vegetables. Often found on pilgrims menus. It's nutritious and a great way to warm up if it's been a cold or wet day!
Pulpo a la Feira – The seafood in northwest Spain is immense! You'll find the finest prawns and scallops. But the Galician dish of Octopus with spicy paprika has to be one of our favorites. Traditionally this comes served on a wooden plate.
Tarta de Santiago – This almond pie literally named 'Cake of St. James' was traditionally baked as a reward for pilgrims completing their journey, but more modernly simply a regional specialty.
---

Tasty celebratory tipples
Cider or cider is big in Northern Spain, especially in Asturias, the region's biggest producer. From pressing to fermentation to bottling, it takes around five months. The process is completely natural and the drink is not carbonated.
It's due to the lack of bubbles that's led to the best bit about northern Spain's famous, refreshing Sidra – the pouring. in chigres or cider bars, trained escanciadors will expertly lift each bottle of cider above their head and pour the contents into the glass, two feet below. It's a strange and wonderful sight to behold but it's more than a great photo opportunity, the height at which the drink is poured "breaks" the cider in the glass and injects some air to create bubbles. We've been told, it's best to drink immediately after pouring and we've never been ones to ignore the local advice!
If you're more of a wine lover, godello (pronounced Go-dey-yo) and Albariño are both delicious, fruity white wines produced in the Galicia region. They pair wonderfully with a plate of fresh fish too.
---
All roads lead to… Santiago
The last 100km of the Camino trail becomes noticeably busier as this is the amount needed to officially claim your Compostela! Whilst more people make the route a little trickier to navigate, don't let it put you off. In our opinion, the sense of celebration and excitement only adds to the unique feel of the Camino journey.
It's like a little festival, the Spanish joy comes out to take on this challenge. It's such a unique experience! Where else in the world do you get this?
The capital of northwest Spain's Galicia region, Santiago is the ultimate destination and a perfect reward for the achievement of completing this world-renowned pilgrimage. The paving stones of the plaza in front of the Santiago de Compostela Cathedral is the point pilgrims converge on as it marks the official end of the journey. It's a place that's buzzing with life, stories and celebration! Beyond the incredible cathedral (which is definitely worth a peek inside), the city has a really unique and magical feel with lots to keep you entertained.
Read our full guide to the city of Santiago here!
---
Claim your Compostela! Feeling inspired to take on one of our Camino cycling holidays? Our local teams can't wait to share the joy of this incredible adventure with you. We have several cycling holidays to choose from, including self-guided and guided options.