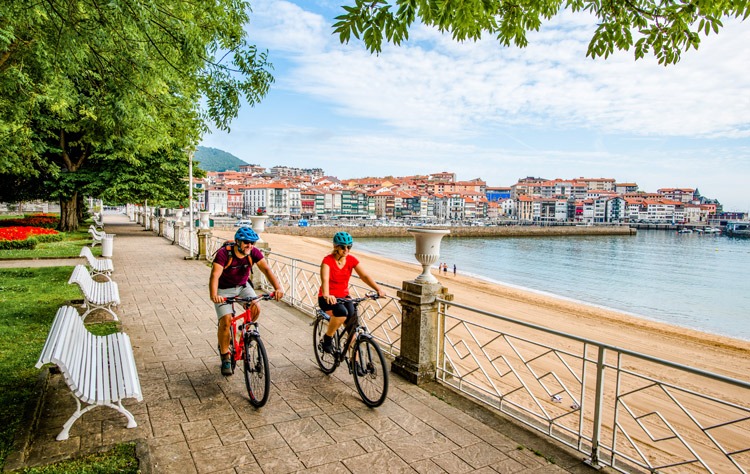 Introducing a coastal and food-inspired cycling odyssey set on the dramatic northern shores of Spain! Yes, you heard right, this year we are incredibly excited to be expanding our selection of cycling tours in this classic European destination, one we are proud to call our (second) home.
Our new two-wheeled journey along the Basque coast, Bilbao to San Sebastianoffers a sumptuous insight into this proudly unique region bursting with culture, world-renowned gastronomy and some of the world's best coastal views (scenery so epic it's fit for a queen, more on that later in the blog!) Starting and finishing in between two of the regions biggest cultural hubs makes for a very rewarding journey, one which just keeps giving.
Why join us in the Basque Country?
We already have many leisure cycling itineraries for you to enjoy in Spain, so what makes the Basque Country an exciting addition to the range, we hear you ask?
Well, it's no secret that we love Spain not only for its great cycling in beautiful places, but also for its cultural depth, gastronomy, history and hospitality. What sets the Basque region apart though is it's really different feel, it has a truly unique identity that differs greatly not only from the south of the country, but to all of its neighboring regions. This is what makes it such a fascinating place to explore.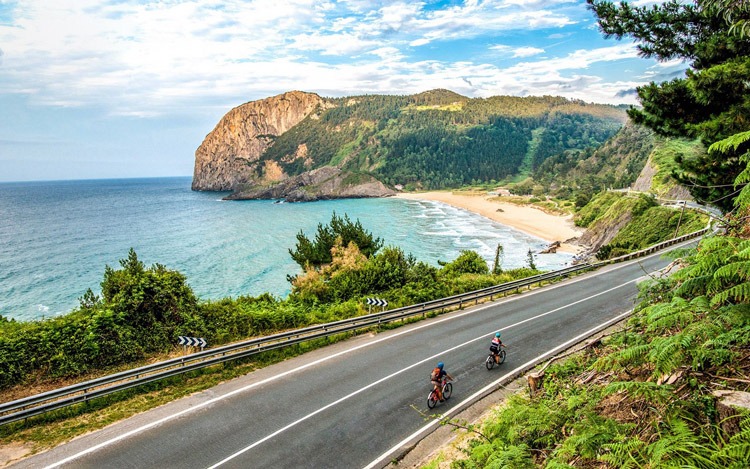 Jutting out into the northern Atlantic coast, it is home to some truly spellbinding scenery, and our route soaks it all up – dramatic cliffs, beautiful beaches, charming fishing villages and oak forests. Beyond the beauty, the culture of the Basque Country is distinctive and comes complete with its own language, as well as its own culinary traditions. If that wasn't enough, it's also home to some impressive modern marvels – the Gugenheim museum of Bilbao is an architectural gem, whilst the oh-so-picturesque coastal city of San Sebastian has successfully established itself, not only as a hub of michelin star chefs, but also as one of Spain's most culturally revered cities.
We believe cycling is the perfect way to immerse yourself in all of the above. Absorbing at the speed of the bike gives you an unrivaled opportunity to get an insight into the soul of this captivating corner of the Iberian Peninsular – it's an assault on all the senses and one which we guarantee will not disappoint!
The Itinerary: Bilbao to San Sebastian
The journey starts in a lively Bilbao, a city most famous for its world class Guggenheim Museum, an unmistakable symbol of the city and a must-visit! Showcasing an array of modern and contemporary art, it's the perfect place for culture vultures, but even if that's not your cup of tea, it's abstract exterior and massive mamam spider sculpture have undeniable 'wow factor' and are well worth seeing. Bilbao also has a buzzing gastro scene and provides the perfect introduction to the regions mouth watering dishes, we highly recommend you head to the charming old quarter and the 19th-century arcaded Plaza Nueva – a great place to tuck into some tasty local pinchos! This makes Bilbao a great place to start your journey of taste and culture through the Basque Country.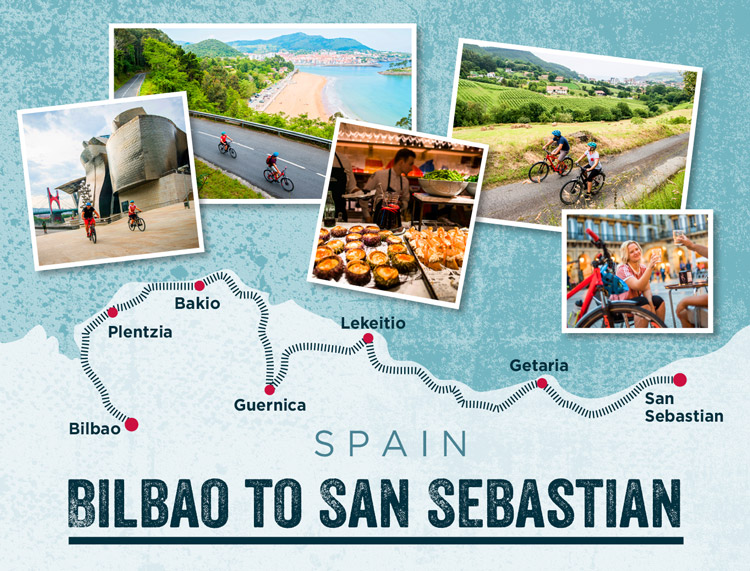 Heading out of Bilbao you'll make your way to the charming coastal town of Plentzia, home to many elegant waterfront promenades. You'll then begin to get a taste of the Basque country's undulating scenery as you navigate through rolling vineyards to the winemaking village of Bakio. From here you'll climb to the dramatic sight of Gaztelugatxe, a jagged peninsular that was cast as Khaleesi's Dragonstone lair, one of the most iconic filming locations used in the popular TV series Game of Thrones. It's one of the Bay of Biscays most impressive spectacles and the perfect place for a pedallin' pit stop.
The route onwards passes through the Urdaibai, a natural reserve of outstanding beauty recognized by UNESCO. Cycling past the atlantic coastline you'll encounter some enchanting scenery, with dramatic coastal cliffs fringed by ancient oak forests – many harboring secluded beaches – it's a real treat to behold from the saddle. Finishing a scenic days ride in Lekeitio, you'll enjoy a picturesque town with a very long fishing tradition, home to a colorful and bustling harbour.
The final stop before San Sebastian is a medieval fishing settlement of Getaría. The rolling green hills surrounding Getaria are full of Txakoli vineyards and bodegas that welcome curious visitors to find out more about the local wine the region is so proud of.
The final section of this fabulous route will take you onto the Camino de Santiago heading east, arriving in the village of Igeldo where you'll have the chance to visit a traditional cider house.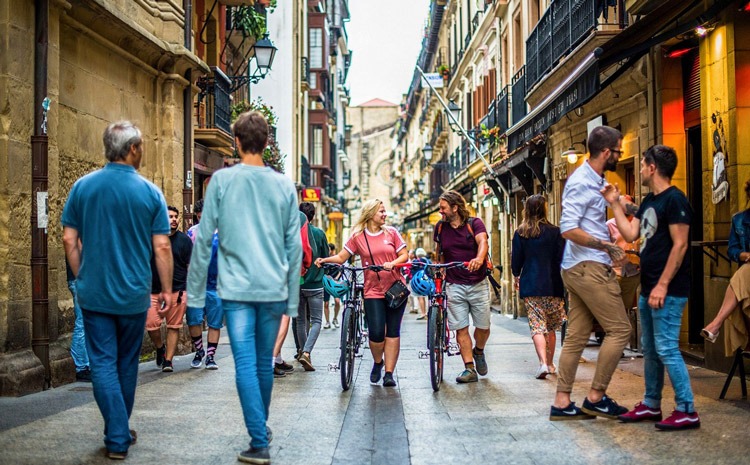 After the last days ride, you'll be treated to fabulous views of your final destination, San Sebastian, framed by golden beaches and lush green hills. The relaxed and elegant city with its Basque twist is widely considered one of the best places to eat in the world – what better way to celebrate a week in the saddle!
The coastal region that the trip covers is hilly with regular climbs and descents, but the rewards outweigh the effort. If climbs aren't your thing, we recommend hiring an electric bike to make the most of the journey through this beautiful part of Iberia.
Pinchos, please!
When it comes to food, you might have already realized that in Spanish cuisine, things vary hugely from one region to the next. And northern Spain is no exception! Here, you won't find the usual tapas, instead you will have what the locals call pinchos or pintxos, meaning toothpick, that usually come served on bread. Some classic local toppings include grilled lamb, cured meats, salted cod, sheep and goat's cheese, piquillo peppers, artichokes, and fresh anchovies – all always exceptionally fresh and delicious!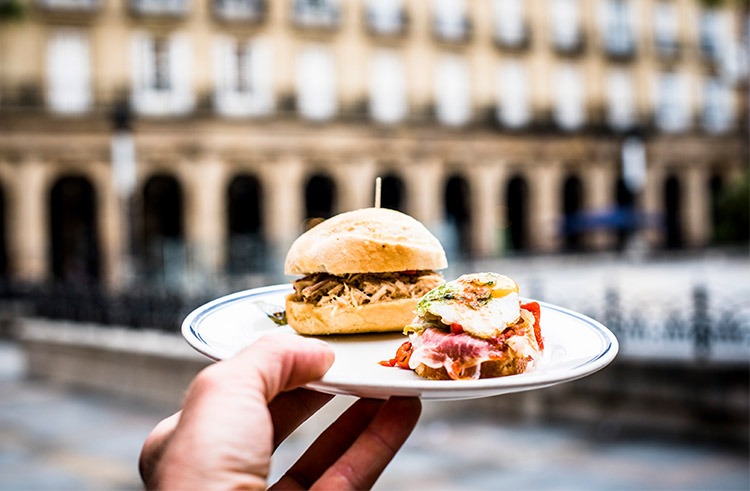 Both Bilbao and San Sebastian (and many towns in between) are famous for their pinchos scene, so you will be spoiled for choice here on your rewarding pinchos haunt through local bars and restaurants. In the evening, you will also be joined by the locals who get together on a daily basis to enjoy a good conversation, local wine and some pinchos together with their family and friends, creating a lively and unique atmosphere that the Basque Country is famous for .
Feeling inspired? Bilbao to San Sebastian might be our new favourite! Visit our website and download to find out everything you need to know about this epic Spanish itinerary.
Photos by Lighttrapper Photography