Our Chile and Argentina Lake District holiday has it all: astonishing snow capped volcanoes, clear blue waters of the lakes, glorious bright blue skies and some exhilarating routes perfect to be enjoyed on two wheels. But don't take our word for it – our latest Customer Competition winner, Ronen Siman Tov, has created a fantastic video that shows off the true beauty and exciting cycling within Chile and Argentina. Take a look below…
"We have dreamed about visiting Chile and Argentina for many years and wanted to experience it in a different way, closer to nature and without barriers. Since we both love to cycle we decided to look for a cycling trip that will cover the highlights of Patagonia. We came across Saddle Skedaddle site and found this trip to the magnificent Lake District in Patagonia. It was our first trip to South America. We were very excited, had high expectations and indeed we just loved every moment of it. We were lucky to join a lovely family of 4 cyclists from Canada, Bob, Dani, John and Louise and we connected with them so well from the first moment.
The local team, Sebastian, Alvaro and Diego did an amazing job in orchestrating this tour. Sebastian was the lead guide, a highly knowledgeable, professional and patient guy who cycled with us every day. Alvaro was our knowledgeable logistics champion and a great chef who surprised us with snacks and lunch in planned before view stops. Adorable and cool Diego was our second logistics support in Argentina. They all made us feel at home and the atmosphere was lively and happy. Every day started with a briefing by Sebastian who presented the planned route on the map, the topology, expected traffic and weather forecast. The cycling was demanding but rewarding with breathtaking landscapes just as was described in the trip brochure. Luckily we enjoyed great weather and didn't experience any injuries nor mechanical problems with the bikes. By the end of each cycling day, during dinner over a good glass of beer/wine we used to say that today was the best cycling day of the whole trip so far, but soon realized that the next day was even better.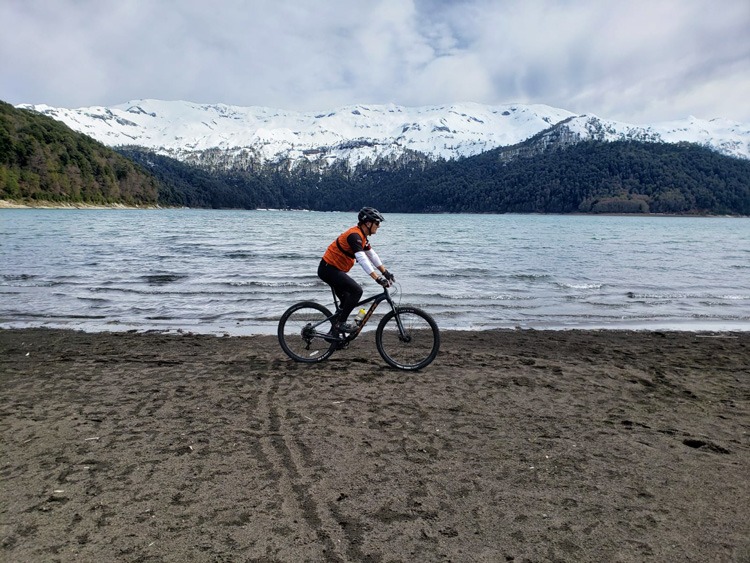 My favorite day was the ninth day – the organizing company saved the icing on the cake to the final riding day. We rode to the lookout of the Conguillio National Park in Chile and passed through a picturesque volcanic landscape, dotted with snowy mountains and decorated with green trees, overlooking turquoise colored lakes. Unforgettable!"
Find out more about our Chile and Argentina Lake District tour here!
After the trip, we caught up with Ronen to find out a little bit more about our Competition winner…
1. What do you love about cycling?
I love the sense of freedom it gives you and the ability to enjoy nature without polluting the environment. Cycling is the kind of sport that you can enjoy solo, with friends or family and practice it from youth to old age, you relive your childhood constantly through your bike.
2. What's your favorite cycling memory?
My other favorite cycling memory is one from a tour of Mont Blanc, when we crossed the passes of natural borders between neighboring countries (France, Italy and Switzerland). You feel as if you are an explorer who sees these sights for the very first time.
3. What do you like most about Skedaddle?
Skedaddle did an amazing job in planning and executing this trip, by selecting a team of professionals in Chile who carefully selected the best routes for cycling with different topography, varied landscapes and minimum traffic. The logistics were flawless with minimum bureaucracy when crossing the border controls. We enjoyed good and well maintained rental mountain bikes, best hotels in each location which were thoughtfully selected along the route usually at the best vantage points which only locals would know about. The guides took us to excellent local restaurants and gave us recommendations for best local dishes of fish/meat and we had the chance to enjoy the best rustic and local cuisines. The only problem is that time flies too fast when you are having the time of your life! We highly recommend this trip, escorted by a great team, with beautiful landscapes, delicious food and lovely people.
4. Where to next?
We have several trips on our wish list and we will need to select between Italy – Sardinia – Coast to Coast, Croatia – Terra Magica or Peru – Andes, Amazon and Machu Picchu.
Read more Customer Stories here…