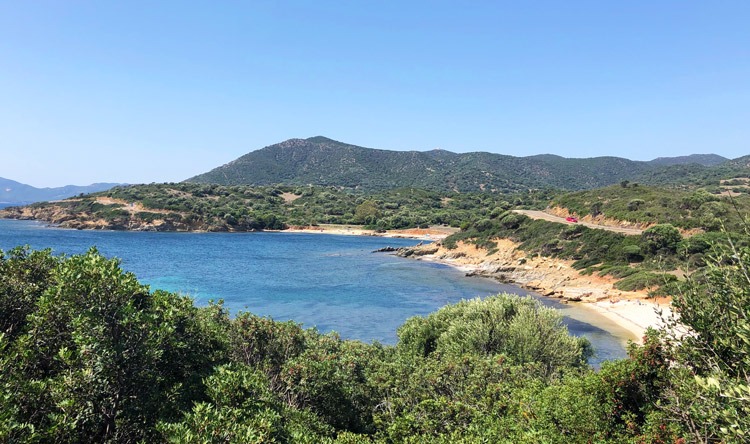 Widely renowned as Italy's most exotic island, Sardinia is home to a stunning coastline and a fantastic network of well surfaced and car free roads which promise great cycling. But, that's enough from us! Here is a story from Anne Maxfieldwho recently joined us on this beautiful island escape, to give you an insight into our Coastal Explorer trip…
'By day six of our Sardinian trip, we were well drilled in our comfortable holiday routine. Every morning started with a fantastic Italian breakfast and what to eat would be the most challenging decision we would need to make all day: fresh ricotta cheese with local honey or homemade apple cake?…maybe both! Then came the days briefing from our leader. By now we were wise to the meaning of a few "undulations" and the odd "cheeky climb". After a week of great cycling and amazing scenery it was sad that we were nearly at the end of our Sardinian adventure, but I was determined to enjoy the last day of cycling, and the sun was shining once again.
We made a relaxed start from Calasetta, cycling through quiet roads as we headed for the causeway that would take us off the Isola di San Antioco and back onto mainland Sardinia. As we approached the causeway, we went through an area of ​​salt pans which was far more picturesque than it sounds. The whole group slowed down to admire the mountains in the distance reflected perfectly in the glass-like water of the salt pans which took on the rosy pink color of the minerals below. To round off the picture-postcard scene, there were flamingos standing serenely in the water.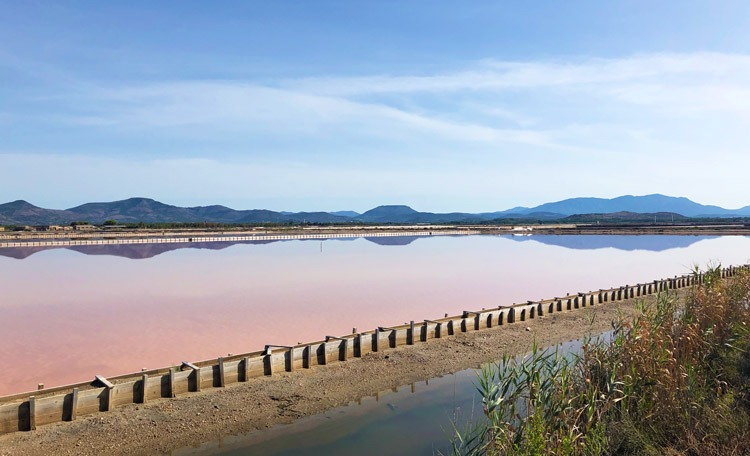 After our amble through the salt pans, we needed to speed up as we had about 80km and 700m of climbing to get under our belts before lunch! Our first serious climb of the day had us working our way up a winding mountain road: I'd been very relieved at the start of the week to discover that our hire bikes had a good range of low gears to cope with the ascents. At the top of the first climb we were greeted by the ever cheerful Stefano with the van and his usual array of drinks and snacks to keep us going. On our second refueling stop it was a pleasant surprise to be offered slices of pizza as well as the usual fruit and biscuits – that's when I realized there must be some serious pedaling work still to be done!
Danilo promised us that we were about to embark on his favorite road of the tour along the Costa del Sud: there were going to be some significant undulations (read, tough hills) but the views were going to be so stunning that we would hardly notice the work. He was right, just about! The road did not disappoint, hugging the coastline and rushing up and down along clifftops and past beautiful, isolated bays. The views were magnificent, the sea in particular was an amazing mixture of blue and turquoise with the odd boat bobbing on the waves to complete the picture. Did it take our minds off the ascents? Smooth flowing hills is definitely my favorite sort of cycling and the long sweeping views of rugged coastline stretched out ahead were perfect – but eventually thoughts turned to a rest, a swim in the cool sea and a Skedaddle lunch. We'd been promised a lunch-time stop at a beach and I started to imagine a van appearing like a mirage in the desert every time we swept down into the next cove.
We all made it! We stopped for lunch under some pine trees just behind the dunes and finally I was able to jump into the sea which had been tantalizing us with views all morning. There's nothing like cooling off with a dip in the sea and a long cold drink after a hot but satisfying cycle. For our last lunch of the holiday the team surpassed themselves and on top of the usual array of salads and local cheese and breads we sampled pardulas – a Sardinian cheese pastry flavored with cinnamon, saffron and lemon to spur us on for the final leg.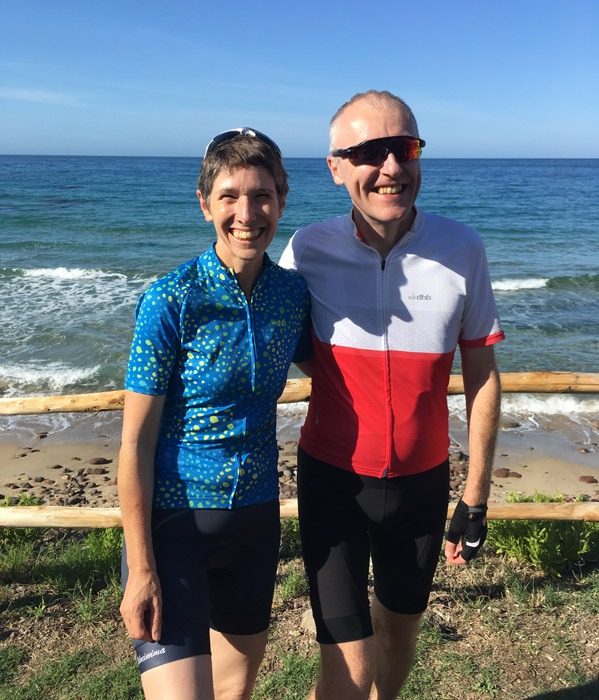 It was a challenge to get the sand and sea water out of the cycling kit and get moving again but we only had 20 km to go. We finished our tour in Pula and were met by the team with a celebratory glass of sparkling wine on the steps of the church in the lively square outside our hotel. There was bunting up which added to the festive atmosphere but I don't think even Stefano would have run to getting a ladder out and decorating the town for us – it must have just been a happy coincidence to round off our great week of cycling!'
Feeling inspired? Learn more about our amazing road cycling holidays in Sardinia here.
Find out more about our Sardinia Coastal Explorer tour here!
After the trip, we caught up with Anne to find out a little bit more about our Competition winner…
1. What do you love about cycling?
I love being out in the fresh air enjoying the countryside and cycling feels like the perfect pace for exploring new places. Plus you get the satisfaction of challenging yourself, hopefully just the right amount.

2. What's your favorite cycling memory?
Difficult to choose, we have lovely memories from all of our cycling holidays. Perhaps setting off on a fresh, sunny morning on the first day cycling in the Dolomites a couple of years ago: taking in how stunning the scenery was going to be, and actually making it over the first proper mountain pass!
3. What do you most like about Skedaddle?
I like that the routes have been so well researched to make sure that its going to be a varied and interesting ride and that all the details down to a good location to stop for a coffee and finding a shady place for lunch have been planned for you. Plus you don't have to worry about transporting your luggage, finding the hotel or even carrying your own snacks! It leaves you free just to enjoy a great day's cycling with good company and not worry about anything else.
4. Where to next?
We do love going to Italy so we are eyeing up the Lakes of Lombardia.
Read more Customer Stories here…