The Rayner family recently headed to Morocco with us, on a holiday that is perfect for adventurous families looking to travel to somewhere culturally absorbing and stunningly beautiful. From exploring Marrakech to biking the incredible Atlas Mountains and learning about the Berber culture, it sounds like the kids and grown-ups had a blast. The Rayner's enjoyed themselves so much that they sent us in this fantastic Customer Competition entry that made them our first winners of 2019!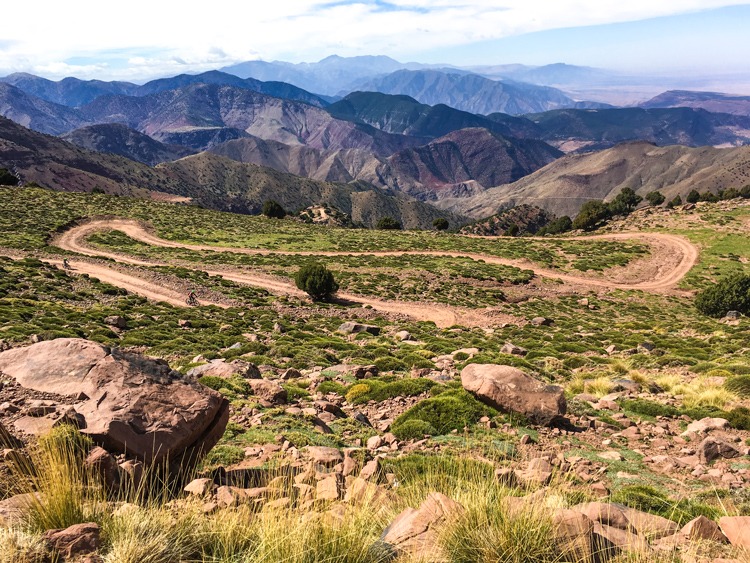 'Horns blasting, scooters weaving, vehicles hurtling toward you from everywhere, a chaotic pandemonium and totally exciting – this is Marrakech! In the medina, narrow over crowded alleys of the ancient souks with pyramids of spice, tagine pots and medieval, tanned leather must haves. The joy of haggling for purchases – it would need to be a magic carpet at that price. Snake charmers and the haunting sound of the call to prayer. All a glorious cacophony of smells, sounds and sights – sensory overload!
We met our fellow Skedaddlers – I wonder what they will be like? Bundled into our 4WDs we departed the city and wound our way through a beautiful valley to our first stop… and an offer of Moroccan whiskey for morning tea. A bit early for that! We were enlightened – its green tea with fresh mint and spices. SO refreshing and perfect for early team bonding. Bikes assembled we had a short climb to the very top for hero photos amongst the peaks of the High Atlas Mountains. Our epic adventure was about to commence; excitement was oozing from us all.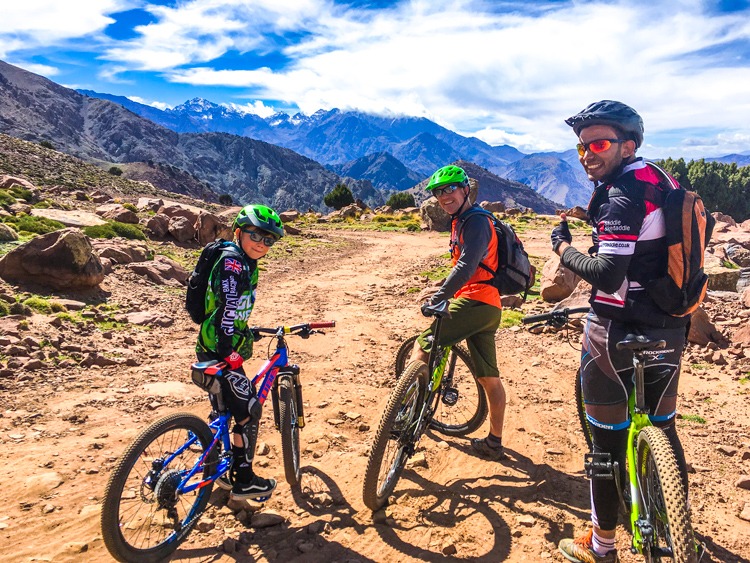 The descent from the High Atlas was great downhill riding. It was awesome. We didn't expect to have such a blast: attention grabbing, yahoo and adrenaline buzz. With the warm weather, absolutely stunning mountain scenery and valley views we were very happy to stop intermittently to soak up the surroundings while waiting for our newfound friends to regroup.
The next days cycling was equally fantastic, tootling through ocher villages built from hard work, self-sufficiency and community spirit. It was a real insight into the lives of the Berber people living in the mountains, very humbling and opened some great conversations with the kids about the way we live our lives and what's important.
The Ouirgane loop route was brilliant and a nice mix of semi single track and village paths shared by people, donkeys, chickens, goats and a bunch of Skedaddle cyclists. We negotiated our way amongst them, along a riverbed then back up a 4WD track. The smiles from the village kids were mirrored by our own. The day ended with the fun loving splashing in the swimming pool whilst a few adrenaline junkies opted for a bit more single track. All followed by a glass of local wine to celebrate what was becoming an epic adventure with a new bunch of best mates.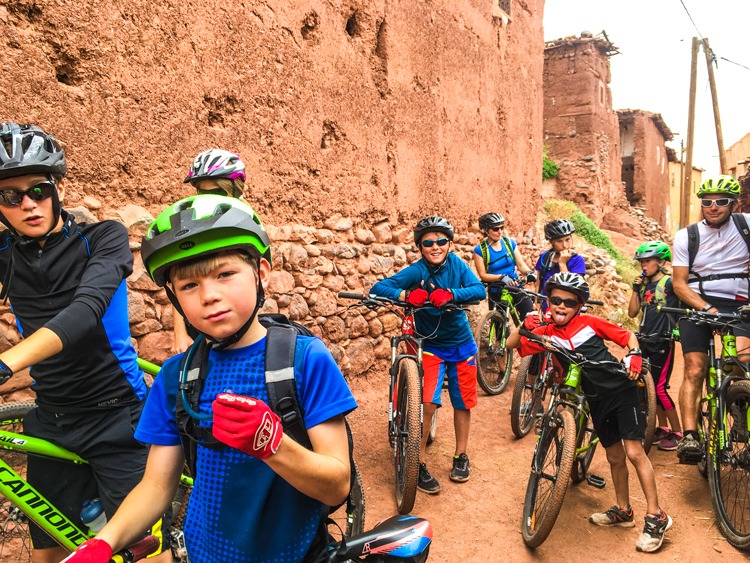 Leaving the mountains and foothills behind us led to a whole new world of barren beauty. The Agafay desert was so unique, the surreal remoteness and the dunes were great fun; whoop whoop! The stony arid landscape was seemingly bereft of life until a lonesome shepherd and his flock of his appeared from nowhere, all the more tangible being on bicycles. Swapping bikes for camels brought ear-to-ear smiles from our group as the rock and roll of these ships of the desert raised us to airy heights, while the setting sun created a heavenly glow across the sky and sands. Luxurious tents, tranquility, candle lit banquet, crackling campfire and the twinkling stars. Happy conversation eventually yielded to the sound of silence and in due course, to the beauty of the sunrise over the desert and distant Atlas Mountains.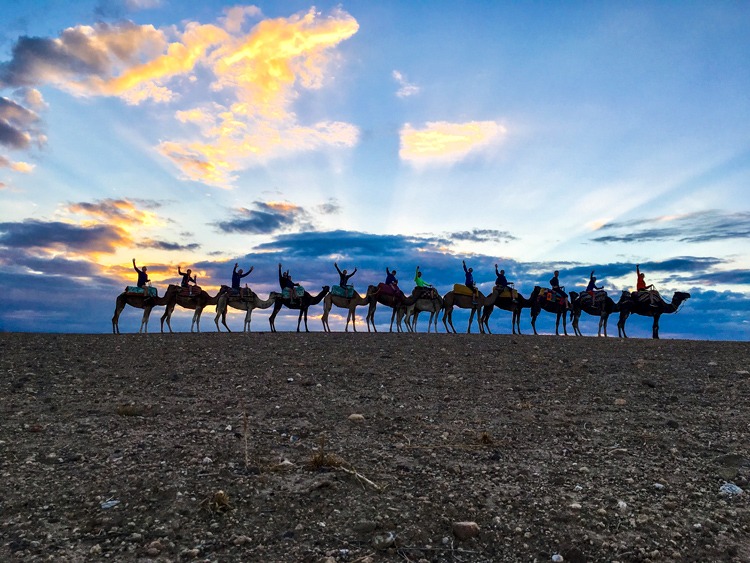 I have never before ridden three consecutive rides that were so varied, each awesome in it's own way and for different reasons and complemented by scenery that was so extreme in contrast. The final ride alongside the argon trees and arriving at the beautiful blue Atlantic Coast brought a sense of mission accomplished – kids celebrated by leaping into the sea still in cycling kit.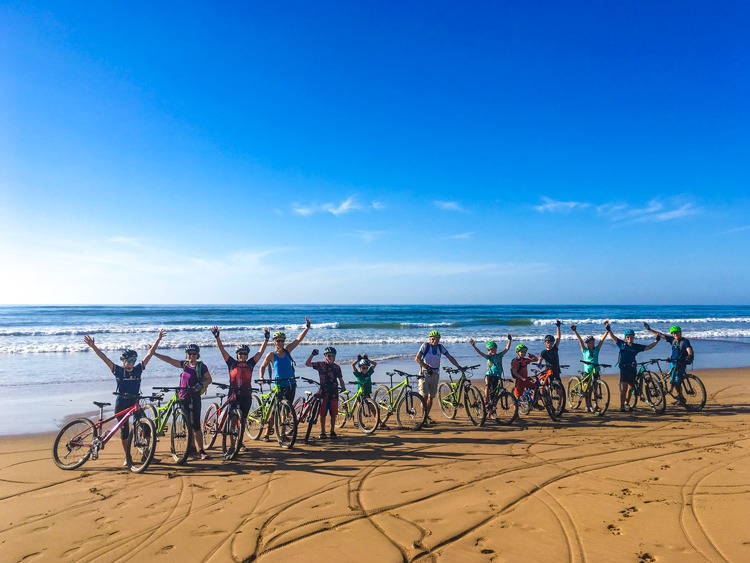 Did I mention the gastronomic extravaganza our Skedaddle chef created daily in the middle of absolutely nowhere but always in a special location? Or our amazing guides? The whole team were really friendly, helpful and informative. Hussein in particular was a wealth of information about everything Moroccan: history, culture, religion, race, family, mountain life, education, etc. We gained an understanding and appreciation of Moroccan life far in excess of what we could have ever imagined.
Skedaddle have cycling holidays nailed! They appreciate the fabulous importance of cycling accompanied by good food, great accommodation and having like-minded people to travel with. It feels like everything is under control with Skedaddle so we don't have to worry about anything except enjoying ourselves.
This was no holiday. It was a life changing experience for the family to digest and reminisce for a long time to come, accompanied by a whole group of new best friends. Thank you Skedaddle for an epic adventure!'
Read more Customer Stories here!
Feeling inspired? Liz and her family joined us on our cycling holidays in Morocco, and now so can you! Bursting with fun activities, from desert camping to easy mountain biking, this is a wow-factor holiday for the whole family. Find out more about our adventure here.