Our adventures in the Far East are amongst some of the most culturally diverse in our range and with more of you than ever before looking to join us in China, all eyes are on this enchanting part of the world! Take a closer look at what you can expect from this incredible destination in the words of our latest Customer Competition winner, Alan Raymondwho joined us in China recently…
Find out everything you need to know about our cycling adventure in China!
'Why do we travel, and why on a bike? Ideally, travel lets us experience people, places, cultures, arts and ideas far beyond our everyday lives. Cycling gets us even closer to the unfamiliar, with all the sensations of being outdoors; it challenges us physically and mentally; and, most of all it's fun! Saddle Skedaddle's Guilin and Guangxi Cycling Holiday ticks all the boxes, and then some.
Over the past 20 years, I've been lucky enough to take adventure cycling trips in more than a dozen countries, setting off from Boston with the good wishes of my non-cycling wife. ("Please, just come home alive!") China has always been on my list, and in a country of 3.7 million square miles and 1.4 billion people, you have to start somewhere. Guilin was the perfect choice!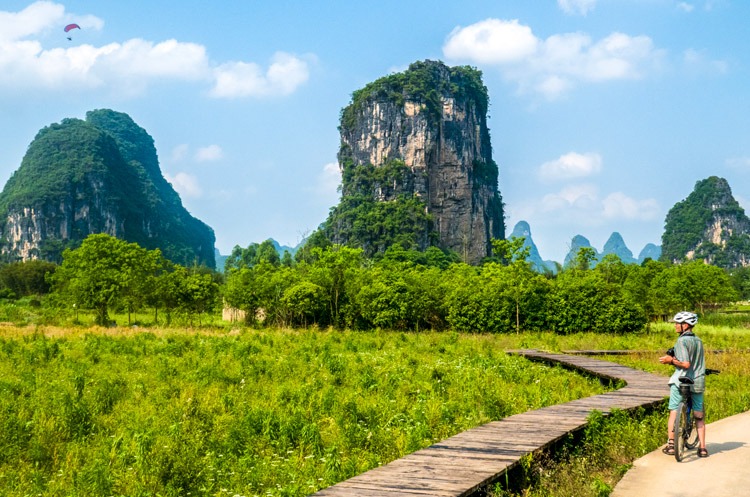 Along with 15 other riders, our amazing guide, Snow Spencer, and her crack, three-man support team, I enjoyed some of the most exhilarating and interesting travel days of my life. The beauty of the Guangxi region has been memorialized in countless paintings and photographs, but like many other natural and manmade wonders, you have to see it to believe it. Bookended by the vibrant cities of Guilin and Yangshuo, we spent ten days among the spectacular, tree-covered karst formations along the Li River, visiting small towns and traditional villages and taking in endless vistas, rice terraces and hot springs, markets and mahjong, and a glimpse at how some of the region's many ethnic minority people live. While our ignorance of Chinese – both spoken and written – was a barrier that couldn't be ignored, English is increasingly common and Snow was always willing to translate, explain and answer any questions about what we were seeing.
Our group ranged in age from 40-something to an inspirational 80, and we were all pretty strong riders, but unlike some other trips I've been on, no one felt the need to race from place to place. With so much to see and do, we took our time, always knowing that Snow and her crew would herd us back together at the next scheduled stop. There were some long climbs, exhilarating downhills and undulating back roads, along with a few days of flat, paved trails, so the cycling was challenging at times, but very manageable for fit and reasonably experienced bikers.
Our accommodations, from guest houses to resort-like hotels, consistently exceeded my expectations, and our meals were delicious and plentiful, always with a wide selection of vegetarian dishes. Breakfasts included fresh-brewed tea and French-pressed coffee along with either local or Anglo-American options; lunches and dinners ranged from simple, delicious Guilin noodle dishes to multiple-course banquets; and a highlight of each day was a late-morning tea and coffee break, with endless fruit and energy snacks, at a prime location along the route. And yes, the local beer was inexpensive and refreshing, red and white wines were often available, and the rice wine was fiery and potent.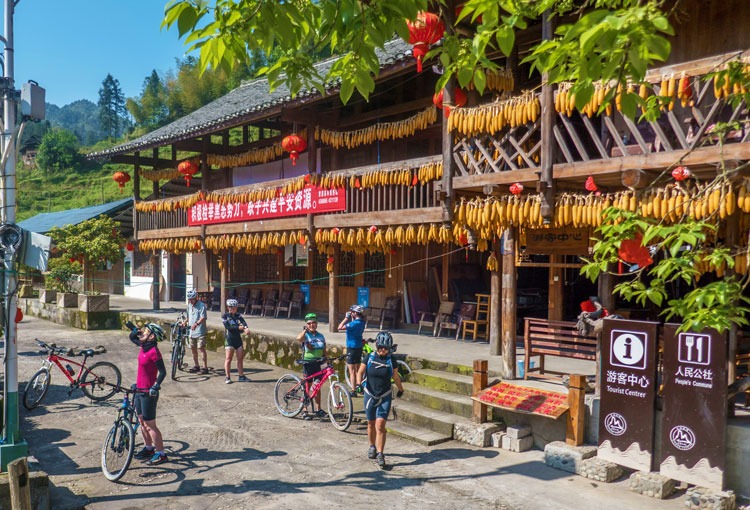 I'm hoping this won't be my last visit to China, but I feel like the Guilin trip was a perfect introduction to the country's unique combination of ancient and traditional cultures, the historic changes brought about by its 1949 revolution, and its rapid emergence as an ultra-modern economy. As for next year's adventure cycling trip, let's just say that I feel like a 73-year-old kid in Saddle Skeddaddle's candy shop. So much to choose from! In the meantime, to Snow, her crew dela, my fellow trippers and the Skedaddlers in the UK, xie xie– thank you!'
Find out more about our cycling adventure in China here!
After the tour, we caught up with Alan to find out a little bit more about our Customer Competition winner…
1. What do you love about cycling?
I love being outdoors, getting some exercise, feeling the elements (dry, wet, hot, cold, breezy, calm), and seeing something new every time, whether I'm on a local ride or in a distant location. And if it's with a group of like-minded riders, all the better!
2. What's your favorite cycling memory?
Other than great memories of cycling around my neighborhood with friends as a young kid, it has to be my first adventure cycling trip, which was 10 days in Zimbabwe in 1997.
3. What do you like most about Skedaddle?
I've only taken one Skedaddle trip, but appreciated the attention to detail and support, before, during and after the trip, the high-value choice of locations, accommodations and great meals, and the other cyclists my Skedaddle trip attracted.
4. Where to next?
Up next – a trip with my wife and friends to Portugal in the fall, where I will undoubtedly rent a bike for local excursions. Then, next spring, who knows…
Read more Customer Stories here…