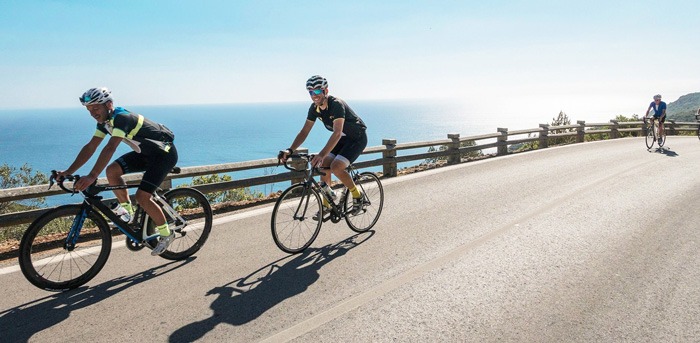 Portugal is a pedaling paradise – beautiful varied landscapes, spectacular beaches, delicious food, wine and a perfect climate for cycling. What more could you want? Here we dive into just a few of our personal highlights of this incredible destination, so keep reading to find out why exactly we are so convinced you will love it as much as we do…
Check out our full range of cycling holidays in Portugal here!
---
Natural Assets
France, Spain and Italy may have the greater association with cycling culture but Portugal can definitely match them all for cycling terrain and the perfect climate. Thanks to its position in south-western Europe, with an Atlantic coastline, it is pleasantly warm all year round with the refreshing breeze keeping even the hottest summer day comfortable. Its southwest position means many of the beaches are perfectly lined up to appreciate the last of the evening light, perfect for a sunset dip, wander on the sands or treat with a view.
---
Food and drink: more than just Port…
Cycling holidays are about more than just pedalling, it is the best way to see a country and also build up an appetite for its food and wine! If your first thought of wine from Portugal is the sticky sweet Port you have at Christmas, you are probably misguided. Port is undergoing a huge renaissance, move over gin cocktails because Port is on its way back! If your only brush with Port is with cheese you are missing out. Aged Tawny and rich, red Ruby port are the most familiar but Port comes in several different styles. White and Rosé Ports are completely different and make fantastic cocktails and blend well with simple mixers.
Visit Porto and enjoy an afternoon stroll along the river to one of the many Port houses, where wines are still blended and loaded for transportation. It will give you some perspective on the history and the chance to sip something cool and delicious on a rooftop terrace with dramatic views of the river and city.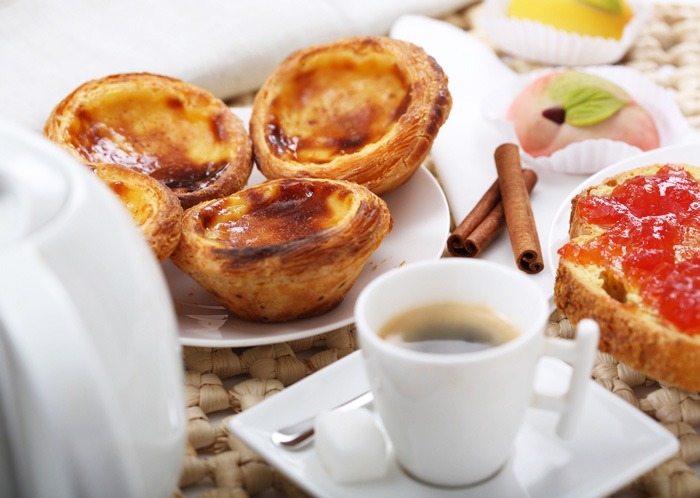 Portuguese wine is very much under-appreciated but it has wines to challenge its neighbors. Vinho Verde from Alentejo and red wines from the Douro Valey are absolutely delicious and you'll find they are of fantastic value. In Portugal, you can eat and drink incredibly well without having to spend big bucks. Food and wine are culturally important to everyone, so whether you are in a tiny village café or big city restaurant, the food will be made with care to ensure maximum enjoyment.
With so much coastline it is unsurprising that fish is a large part of the Portuguese diet and bacalhau (codfish) appears in myriad ways on nearly every menu. Salted fish is a common staple food and the aroma of it when shopping can be eye-wateringly strong! Café stops won't be complete without a coffee and tasty bite-size pastry, Pastél de Nata, but we challenge you to leave it at one! These tiny tarts have a custardy filling in a flaky pastry outer and are deliciously moreish.
---
Architecture, a style of its own…
Portugal's architecture and design style had many influences but is still uniquely its own. Roman, Moorish, Portuguese Romanesque and Gothic styles can be seen. Towering fortresses and elaborate castles are reminders of turbulent times in Portuguese history, but these spectacular buildings now make marvelous places to explore. Quinta da Regaleira in Sintra is classified as a UNESCO World Heritage Site. Its ornate buildings and luxuriant gardens have been described by tourists as being like a Disney Land for adults. With caves and castle-like turrets, secret tunnels that lead to other parts of the garden and a huge Palace it is very much in the realm of fantasy.
Portugal sparkles with colour, not just in its landscapes but its urban areas too. Azulejos, highly decorative glazed ceramic tiles, are used everywhere from the front of buildings to walls, subway stations and even on the ground. Some tiles are just eye-catching, brightly colored geometric shapes, but in other places, they are used to capture scenes and tell stories. These artworks can be seen everywhere from public buildings to bars so it is worth taking the time to look more closely at the details and the history they might reveal. Azulejos are becoming more fashionable with interior designers and for many travellers, these tiles are an instant reminder of their trip to Portugal.
---
More than just beaches…
Portugal has a diverse landscape with high mountains, deep river valleys and a long coastline. It is divided by the Tagus river, which separates the rugged north from the rolling plains in the south. It might not have the height of some of the mountains of the Alps or Pyrenees but there are several peaks just shy of 2000m, which is plenty to stretch the legs! Our guided road cycling holiday, Vineyards of the Douro, takes you to the challenging climb of Torre, the highest point on mainland Portugal. The steep sides of the vineyard-covered Douro Valley and surrounding hillsides offer plenty to delight those who love to climb.
---
Coastline roads and singletrack
To enjoy Portugal's changing scenery, and to benefit from some flatter cycling, you could try our road cycling route that runs from north to south along and down the Atlantic west coast. Starting just south of Porto in the north our Atlantic Escape trip starts off gently with an almost flat first 100km/60 miles before the coastline becomes more rugged, and hills appear. Taking in the Sintra mountains, views of Lisbon and finishing on the Algarve this is a classic way to get a taste of what Portugal has to offer.
If you prefer to feel the dirt beneath your wheels you will find that the rolling terrain and pristine natural parks make for some superb mountain biking and ocean views are never far away on our Atlantic Trails guided mountain bike trip. And for a more leisurely pace, don't miss the Azure Ocean Ride, where the Atlantic ocean forms an almost constant companion as you glide ever South in search of sweeping golden beaches, tasty, fresh fish and enchanting castles of Sintra.
There's so much to enjoy in Portugal! See our full range of holidays here…
---
Portugal is a place that keeps people coming back and now you know why. It is warm, welcoming and hospitable and has far more to see and do than just its beautiful beaches. Exploring Portugal by bike will give you a glimpse of all it offers. Come join us for the pedaling stay, port cocktails and Pastel de Nata!
Find out more about our top 10 simple pleasures of a cycling holiday we think you will fall in love with!